Make a Mudroom | Spring 2004 Out Here Magazine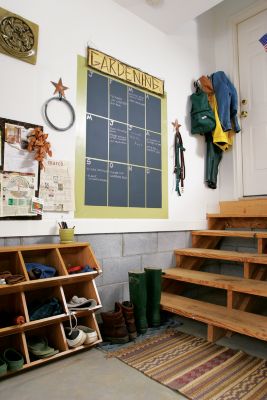 Mudrooms can be created by converting a corner of an attached garage, breezeway, or kitchen into an area designed to provide a place for shoes, boots, and dirty clothes.
By Marcia Lyon
Photography by Jeff Frazier
Take heart; you can win the endless battle to keep the house clean, despite the constant flow of big and little people — and sometimes pets — tromping in with dirty feet.
One solution may be a mudroom — a transitional space from the outdoors to indoors. Such a space not only protects the rest of the house from dirt and mud, but it also keeps clutter out of the kitchen.
The idea is to trap dirt-producing objects, such as shoes, boots, and dirty clothes, and provide a place for them. But a little organization is key; without proper storage, your family's shoes can turn a back entrance into an obstacle course.
Many of us don't have the extra space or money to add on a mudroom, but you might be surprised at how you can create one out of existing space — a corner of an attached garage, a breezeway or porch, or a corner of your kitchen.
First, define the area, which can be done as simply as changing the flooring. If the room is carpeted, make this spot vinyl or tile. Another defining element might be a low wall or counter, which could double as a storage place for shoes, backpacks, or other items.
Determine your needs. What do you need extra space for? Backpacks? Dirty farm clothes? Sports equipment? Horse tack? Recycling area? Cleaning muddy pet feet? A place to clean up from the garden? You can include the type of storage in your mudroom that best suits your family's lifestyle.
GETTING STARTED
A mudroom ideally should include:
A coat closet, if space allows. Naturally, coat hooks can be used instead of a closet, or the kind of space-saving coat racks used in restaurants that consist of a wall-hung shelf and rod. In more traditional homes, an antique hall tree is as appropriate as it is functional.
Storage for shoes. Shoes can find an organized home on a vertical shelf unit designed to stack shoes, or by using a dresser, provided the drawers will accommodate your family members' shoe sizes.
A "to go" shelf to hold items coming or going. A "to go" shelf is any kind of small, wall-mounted shelf, intended to be small so it won't be a catch-all shelf. It should be just big enough to keep the keys, shopping list, borrowed items that you're returning to someone, and perhaps a purse or briefcase. Space permitting, this can be slightly larger to accommodate cubby shelves below for backpacks. A nice touch is to add a mirror above it for last-minute checks before you head out the door.
A bench to sit on while putting shoes on or taking them off. Buy or build one with a hinged lid for an extra bit of hidden storage.
In planning your mudroom, make sure to include plenty of maneuvering space because there often is more than one person coming and going at the same time.
A mirror for last-minute checks.
Cubby shelves for backpacks.
None of these additions should hinder the getting into the house with armfuls of groceries or with bathroom emergencies.
Lastly, make your mudroom appealing. Besides being functional, this transition space also should be attractive, because it is, after all, the family entrance.

Marcia Lyon is a freelance writer, professional remodeling designer, and owner of Creating Spaces.