Horses Offer Hope and Healing | Spring 2004 Out Here Magazine
By Marti Attoun
Photography by Larry McCormack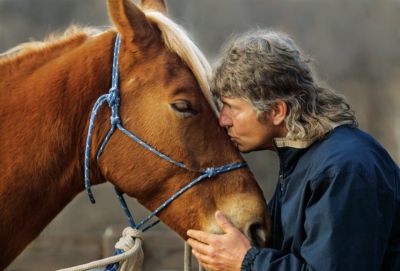 Jim Gilligan, a volunteer at GAITS of Nashville therapeutic riding center, displays the love and respect given to therapy horses.
Louise, Roy, and Harley may not look like therapists as they mosey around the arena, but the healing power of these horses is seen weekly at Quest Therapeutic Services Inc., in West Chester, Pa.
Quest is one of more than 650 therapeutic riding programs offered nationwide for children and adults with a wide range of physical, emotional, and learning disabilities.
"The beauty of this program is it does so many wonderful things for so many people," says Jamie Grossman, of West Chester, who has experienced firsthand the results with her autistic son, Andrew, 9.
An autistic child, she notes, has trouble processing sensory information and making the proper body adjustments.
"Andrew has no concept of his body in space. If he's up high on a jungle gym, he might just step off," Grossman says. "Four years ago, if we took him to the beach and a wave was coming in, he'd stand like a stick until he fell over. Now he moves with the waves and gravity and it's amazing to see."
She credits the gentle, rhythmic movements of the horse with helping Andrew control his own body movements.
Sandy McCloskey, Quest's director and president, regularly hears success stories from her pediatric therapeutic riding program called hippotherapy (the Greek word hippos means horse). In hippotherapy, licensed therapists in speech, physical therapy, and occupational therapy work with the patient during riding sessions.
"The kids will ride on a bareback pad so they can feel the warmth of the horse and the movement," McCloskey says.
Horse Time in Covington, Ga., uses horses to treat emotional and behavioral problems in both children and adults.
"We had one child who was so withdrawn, he'd sit in the fetal position," recalls director Maureen Vidrine, a psychiatric nurse. "Within a couple of weeks, he had pictures of himself riding backwards on the horse. He felt good about himself."
A suicidal woman in her 40s began the riding therapy program and credits the horses with saving her life, Vidrine says.
"The horses have given her a sense of something good and true that she can count on," she says. "The horses have given her hope." Both
Vidrine and McCloskey speak with warmth and love about their therapy horses.
"We value their input. They're not an object — they're wise animals that sometimes know the clients better than we do. There is a lot of mutual trust and respect," Vidrine says.
Adds McCloskey, "I don't know who likes this more — the horses or the patients. The horses get praised and petted. They get treats. They come running when it's time for a session."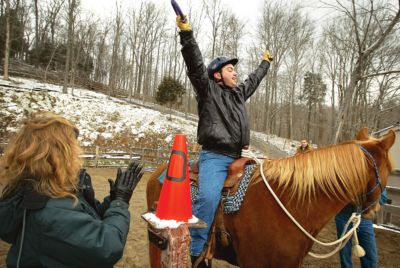 Todd Farr, of Nashville, enjoys the ride astride Thunder at GAITS of Nashville therapeutic riding center. One volunteer helps the rider stay balanced while another leads the therapy horse.
Marti Attoun of Joplin, Mo., writes for several national magazines.