Going Once, Going Twice… | Spring 2004 Out Here Magazine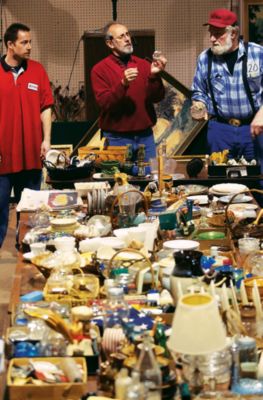 Auctioneer Steve Struck, center, advises auction-goers to inspect items closely for authenticity and condition before the bidding begins.
Auctions can be enlightening, a bargain, and just plain fun
By Laura Sewell
Photography by Josh Ritchie
Ever hear about the guy attending an auction who scratched his nose and ended up the reluctant owner of an antique stove?
Relax. The story of the woefully mistaken bidding signal is just a fairy tale.
"Now and then that happens, but normally you can tell the active bidders," says Anne Smith, proprietor of Anne's Auctions in Overland Park, Kan. "We all laugh about it. Nobody's going to really make them buy it."
Even so, auction novices should know some general pointers. For starters, virtually all auctions require prospective buyers to register using photo identification, after which they receive a numbered bid card.
Buyers raise the card-or keep it within eyesight of the auctioneer while using their own signals-to enter the bidding.
"We always want to see that card on every transaction to ensure no mistakes are made," says Smith, who's been an auctioneer for more than a decade.
Secondly, that rapid-fire banter for which auctioneers are known really does take place. Called chanting, it can sound like gibberish to the untrained ear.
But many auctioneers will slow down for beginners, Smith says.
"You can tell by their face if they're getting lost," she says.
Newcomers should observe a few auctions before entering the bidding, advises Steve Struck, owner of Bloomington, Ill.-based Struck Auction.
It's crucial to arrive early for the preview time-anywhere from a couple hours to a couple days before the auction-to inspect items closely for authenticity and condition, Struck and Smith both advise.
A few other must-knows: many auctioneers add on a buyer's premium-usually 10 to 15 percent of the sale price-to help cover their operations costs; if you're the highest bidder, the item is yours once the gavel strikes, and payment is expected then and there; and auctioneers generally work on commission, so they will try for the highest price possible.
As for finding great bargains, well, they do exist, but Struck and Smith agree that whether a particular item is a steal depends on how in demand it is.
Above all, Smith says, expect to have a good time at an auction, even if all you're doing is watching the regulars fight it out.
"The hunt is on," she says "and it's in their blood."
Laura Sewell is a freelance writer in Brentwood, TN.