Forging a Link Between the Ages | Spring 2004 Out Here Magazine
Blacksmith keeps the sparks flying for another generation
By Marti Attoun
Photography by Benjamin Krain
When Steve Robinson opens the door, with its hand-forged latch and hinges, and steps into his blacksmith shop, he leaves the modern world on the other side. His Moose Creek Forge shop, nestled in the Ozark Mountains on a lonely road near Forsyth, Mo., rings with history.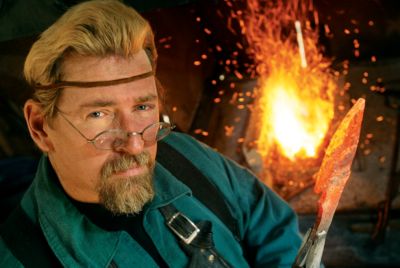 "If I could drop back 2,000 years and go into a Roman blacksmith shop, I'd know the tools," says Robinson, 53. "Blacksmithing is a tradition that's so old and binds all the cultures. It crosses time and languages."
As soon as the fire in the forge glows orange, Robinson is ready to go to work, reshaping hunks of iron into knives, hooks, locks, fireplace sets, camping tools, garden gates, and lawn ornaments. He makes yesteryear's implements and objects, such as Middle Ages helmets and Civil War-era horse-picket pins, for re-enactment groups. Robinson makes crude heavy-duty chains and elegant iron bedsteads with 150 feet of twisted vines, hummingbirds, and morning glories.
"I have a trade for which there is no calling, but I hope to keep it alive another generation," he says.
Robinson worked as the village blacksmith at Silver Dollar City theme park in nearby Branson from 1994-99, then left to open his own shop — more for love of craft than money.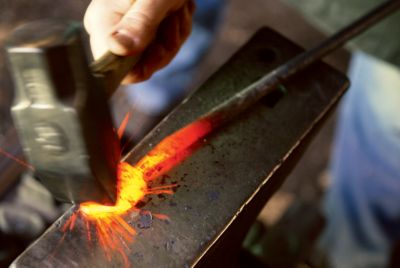 At 1,800 degrees, an iron rod becomes soft enough for Robinson to hammer it into another shape.
"Few people can afford handcrafted items, such as ornamental balustrades," he says. Stamped-out metal and electrically welded objects can be mass-produced at a fraction of what a blacksmith needs to charge.
For example, a good heavy store-bought chain costs between 65 cents and $1 a foot, says Robinson. Working hard all day, he can make one foot of chain.
"And it's ratty-looking chain," he adds. He forges every single link, heating an iron rod to 1,800 degrees to soften the metal, then, using a 150-year-old anvil, hammers and reshapes it into a link.
Sparks fly as Robinson bends and pounds the hot metal, then plunges to cool. Again and again, he repeats the process — heat, hammer, cool.
"The metal literally flows together and welds," Robinson says. "You've heard the saying that a chain is only as strong as its weakest link. This is where it comes from."
Until the 1940s and the rush to mechanization during World War II, blacksmithing was a valuable skill in the United States.
"Guys would specialize in wheel-making or shoeing horses. There'd be two or three blacksmiths in town."
In less-industrialized nations, blacksmithing remains alive.
"People are still driving wagons with horses and cutting wheat with a sickle and I guarantee you that they're made by a blacksmith," Robinson says.
He has the distinction of being the only American invited to join the Russian Union of Blacksmiths. Robinson, who is fluent in Russian, lived and worked with five Russian master blacksmiths for several weeks in 1998. He met the men through an international program at Silver Dollar City.
Steve Robinson shapes metal into locks or other usable items, or into ornamentals, such as a rose-shaped door handle.
hand-smithed lockrose-shaped door handle
Robinson has always been a history buff, but it was Middle Ages history that sparked his interest in blacksmithing. In 1970, the former Navy Seal joined the Society for Creative Anachronism (SCA), an international group that researches and recreates life during the Middle Ages. He learned blacksmithing so he could make armor, helmets, and weapons.
He also met his wife, Sharon, during a battlefield scene at one of the SCA gatherings.
For a few years, the Robinsons lugged a portable forge to SCA gatherings and Renaissance fairs.
Today, Robinson has swapped the backbreaking hauling for work in a backyard shop built from a henhouse. The couple built a log cabin, using knives and other tools that Robinson made to peel the bark from the logs. They live without frills, yet surrounded by the luxury of handcrafted locks, candlesticks, bookracks, and garden sculptures of frogs and fairies.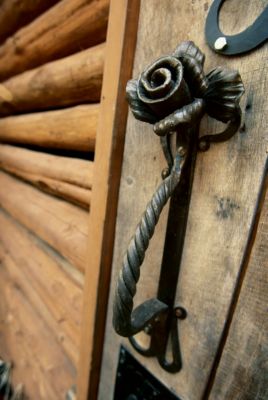 Since ancient times, blacksmithing has possessed an aura of mystique and magic, notes Robinson. He is completely wrapped in the spell.
"The metal goes into the fire and dies and is reborn as something else," he says. "What man can take a piece of hard metal and turn it into a flower?"
Marti Attoun has written for Family Circle, Ladies' Home Journal, and other national magazines. She lives in Joplin, Mo.