Family Affair | Spring 2004 Out Here Magazine
4-H strengthens the ties that bind the Jacoby family

By Carol Davis
Photography by Jeff Frazier
Randi Jacoby's most rewarding moment in her remarkable 4-H career didn't occur in the show ring; it was a simple conversation with her younger sister, Darcy.
"My sister, one time, said, 'You're so cool. I want to be an officer, too,'" Randi, 20, says.
Until that moment, Randi, a leader in the Burnet County, Texas, 4-H program, hadn't much considered herself a role model to Darcy, now 12, and her brother Trace, 17.
"I remember looking up to the 4-H officers and wanting to be like them, and I kept that in the back of my mind whenever I became an officer," recalls Randi, now a junior at Texas A&M University. "With my sister and brother, I never thought about them looking up to me."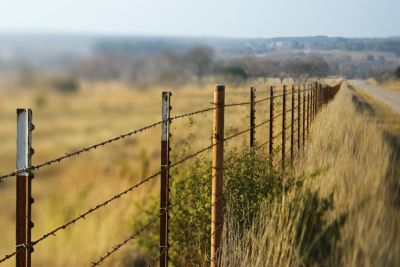 'COUNTING THE DAYS'
A walk around the Jacobys' 200-acre Hill Country spread near Bertram, Texas, 65 miles northwest of Austin, reveals a five-member family happily immersed in 4-H. Outside, among cedar trees, are Angora goats, pigs, and a small cattle herd. Inside are framed pictures of the Jacoby children winning awards, boxes filled with prize ribbons, and stacks of detailed record books of each 4-H in-depth learning experience - called a project.
It all started with an orphaned piglet named Piggy Pat.
"My brother-in-law had an orphaned piglet, and we volunteered to bring it home and bottle feed it. That's basically how we got started," says mom Holly Jacoby, noting that Randi was just 3.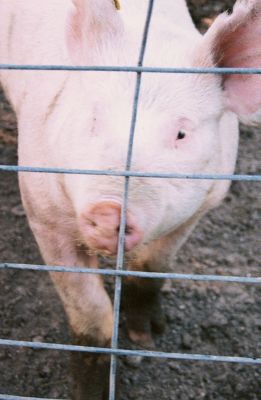 "Then, we got another pig. By the time she was old enough to show, at 9, we had a little herd started," Holly says.
Holly, a self-described "city girl" who grew up in Houston, had no 4-H experience, unlike her husband, Robert, who grew up on a 1,000-acre Texas ranch.
As a boy, he joined 4-H and now was anxious for his young daughter to do the same. "I was totally interested in her doing the things I did as a kid," he says.
"He was counting the days until she was old enough," Holly says, with a laugh.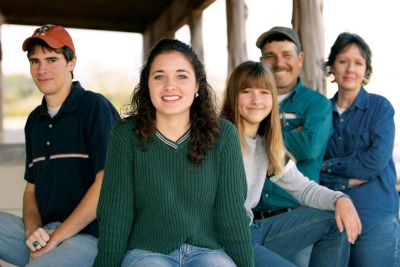 The Jacoby family (from left, Trace, Randi, Darcy, Robert, and Holly) value the togetherness that 4-H provides.
The couple formed a small 4-H club — now the Cow Creek 4-H Club — and Randi started out with a show pig. "She helped from the first step," Robert says, noting that she took care of pregnant sows.
After piglets were born, Randi, and subsequently her brother and sister, selected some to raise for show. But raising a pig to show means much more than twice-a-day feedings; it requires regulating that feed, notching ears to identify each pig, training them for the show ring, exercising and weighing them, and closely monitoring their health.
"There's a lot of science to this stuff," Robert says.
And sometimes some guesswork, Holly says. "It seems like everything we've gotten into, we've known nothing and learned through trial and error."
Despite the challenge, Randi plunged right in, eventually raising dozens of pigs, a heifer, and Angora goats. She added livestock judging, photography, and meat science to her projects.
Her meat science project - learning retail cuts of meat, USDA beef grades, cookery, storage, and nutritional value - unwittingly helped Randi with her future plans. She's majoring in agricultural development and may choose a career in meat science.
4-H not only guided Randi's career goals, it's helping to pay for the education to get her there. Her outstanding 4-H participation and leadership netted her a $10,000 scholarship to Texas A&M, along with several smaller scholarships.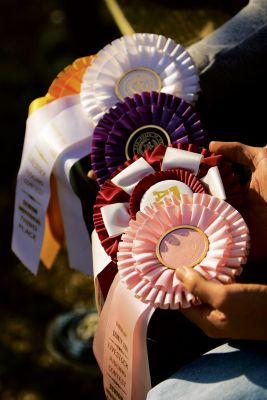 4-H SUCCESS
Randi may have started the 4-H ball rolling, but when it was his turn to join, Trace picked it up and ran with it. "I remember wanting to do what she did and I couldn't wait to get there," he recalls.
He also started out with pigs, and as he learned more about selecting show stock, Trace, a tall, somewhat quiet young man, discovered an interest in livestock judging.
He followed a natural progression into meat judging, in which he would find extraordinary 4-H success. His four-member team won first place in the state, and ultimately fifth place in national competition.
Trace laughingly concedes that he would come in handy at the grocery store, but having such skills helps his family produce better-quality livestock.
"Stress affects meat," Trace says. An adrenaline rush caused by anxiety or fear chemically alters the meat, he explains.
So, the Jacobys make an extra effort to keep their market animals as comfortable as possible. "At home, we keep them clean, away from harm, and we try to be patient with them," Trace says.
Trace also branched out, raising beef and Angora goats and participating in a photography project, winning awards and accolades in nearly every competition he entered - reserve grand champion Angora goat in Burnet County, three grand champion photos at the county fair, and first place in the Duroc hog county competition.
This year, he won first place in the entire state of Texas for his swine record book, which essentially chronicles every step of an animal's, or project's, development. Trace's prize was an all-expense-paid trip to Washington, D.C., with the state's other first-place winners.
From being elected Burnet County 4-H Council president to raising money for families in need, Trace has taken full advantage of the 4-H experience.
"The places you go, the things you experience, the relationships you make with friends and family are what 4-H is really all about," he says.
a very young Darcy
Darcy helped with newborn piglets way before she was old enough to join 4-H.
STARTING HER OWN HERD
Darcy officially has been in 4-H for four years, but she's really got 12 years under her belt. "She was practically born at a stock show," Holly says.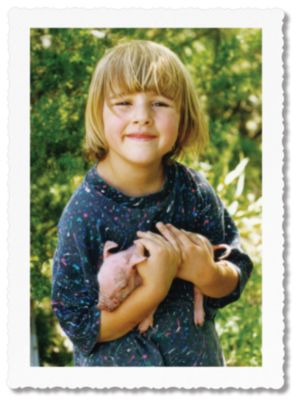 Being the youngest has its advantages. "Both (Trace) and Darcy got a head start in 4-H because, even before they were old enough to join, they watched Randi and helped her with her animals," Holly says.
The tall, outgoing pre-teen, who seems older than her tender years, can hold her own when it comes to livestock. She thinks nothing of explaining pork quality assurance, trimming goats' hooves, castrating boars, helping a sow deliver piglets, or notching a piglet's ear.
But you also can find her making Christmas ornaments for nursing home residents, collecting books for a literacy program, making pillows for the families of Sept. 11 victims, giving speeches, donating her photography to fund-raisers, and encouraging others to join 4-H.
Darcy particularly is interested in Black Diamond, a Brangus heifer she won two years ago after scoring high in a Houston livestock judging contest (Incidentally, her sister did the same several years before).
Black Diamond delivered a heifer last fall that Darcy named Black Pearl and the two are the beginning of her own herd.
Trace and Darcy feeding vitamins to the cows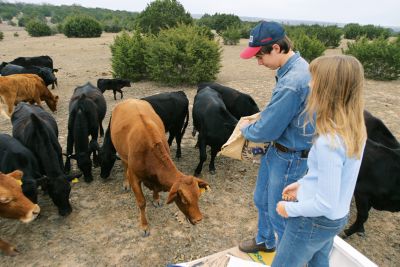 The cattle come running when Trace and Darcy distribute vitamin pellets from the bed of a truck. The cows consider the vitamins a treat, Trace says.
GIVING BACK
4-H not only has been good for her children's minds, but for their hearts, too, Holly will tell you.
Randi started a nursing home visitation program that continues today. Trace donates market hogs for community fund-raisers, like the time a football player on the opposing team broke his neck during a game and the whole county chipped in to raise money. And Darcy calls bingo and organizes activities for the nursing home program her sister started.
"4-H is supported by the community, so we felt like we should give back to the community," Randi says.
4-H also keeps the Jacobys a close-knit bunch. "Whether it was weighing pigs or shearing or washing pigs, we were all out there together," Randi says.
Indeed, the best part of 4-H is simply the time her family spends with each other, Holly says. "We all have a common goal," she says.
"We're working together as a family."
WHAT IS 4-H?
4-H programs began in the late 1890s and into the early 1900s to provide better agricultural education to young people. No single person is credited with starting 4-H; rather, it evolved through the collective efforts of several individuals, according to the National 4-H Council.
Most states have programs for those between ages 5-19, including raising animals, training pets, making clothing, repairing computers, growing plants, and building rockets, to name just a few.
Learn more about joining 4-H by contacting your local Cooperative Extension Office, listed in the telephone book under county government, or by logging onto www.4-h.org.
Carol Davis, editor of Out Here, was a member and officer in the Palisade, CO., 4-H club.