Picture This | Fall 2004 Out Here Magazine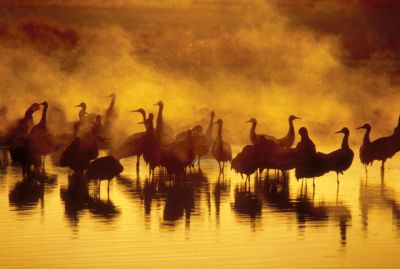 Early morning fog adds an ethereal feel to these migrating sandhill cranes, who roost at night in shallow water, then leave at sunrise to feed. © Wendy Shattil/Bob Rozinski (303) 721-1991
By Lori Cumpston
Photography by Wendy Shattil & Bob Rozinski
Wendy Shattil and Bob Rozinski wrapped canvas around the top of an old cotton picker in Texas to create a blind to photograph a great horned owl.
As the sweltering sun began to sink in the vast Texas sky, wildlife photographer Wendy Shattil gathered up her gear from inside the photo blind where she'd been holed up for three hours.
When she glanced out the side port of the temporary blind, she saw the diamondback rattlesnake, a Texas-sized specimen stretching between 6 and 8 feet long.
Shattil had heard stories about snakes frequenting photo blinds in search of shade. But instead of settling into the temporary makeshift blind constructed of wood framing and burlap, the rattlesnake slithered past Shattil and did something unexpected.
"It went down to the edge of the pond," Shattil recalls, "and it coiled and reached out about a foot of its length and took a drink."
Armed with only a 600mm lens to shoot longer distances, Shattil scrambled out of the blind to the far side of the pond to capture the rare moment on film.
"We know a lot of herpetologists (zoologists who study reptiles and amphibians) and nobody had ever seen a rattlesnake drink in the wild like that," says Bob Rozinski, her partner and fellow photographer.
The couple, of Denver, Colo., met when Shattil signed up for a photography course Rozinski was teaching. They teamed up in 1981 and have been together ever since. Their photography has appeared in calendars, books, and magazines, including National Geographic Traveler, Smithsonian, Audubon, and Backpacker.
Photographing wild animals is not simple. They must study animals' behavior patterns and habits to anticipate what they might do or where they may go.
Long lenses keep Shattil and Rozinski safe while documenting the animals' behaviors.
Their work has taken them to such exotic locations as Egypt and Belize, but their specialty is North American subjects and locations, particularly threatened or endangered wildlife and habitats.
Freelance photography is a competitive business, so deciding what to shoot often is driven by economics. The hours are long — before sunrise and after sunset — and the work can be grueling.
Rozinski once slept in his truck for eight days when the motels in a small Wyoming town were booked. Shattil holds the couple's record for sitting in a blind for 22 hours in the dead of winter, waiting for the perfect shot. She came up empty handed.
Still, they've managed to parlay their love for nature into memorable moments, such as when Shattil, who was visiting her grandmother's grave, stumbled across a fox den.
While photographing the foxes, she saw the mother tenderly pick up one of her babies that had died and walk through the cemetery.
"I got to where she laid it down and she had put it right at the base of a gravestone of a man named Dr. Keepers and I just started bawling," Shattil says.
Interestingly, it was a photograph of a red fox a few years earlier that earned Shattil the prestigious BBC Wildlife Photographer of the Year, making her the first woman to be awarded such an honor.
"The best part," Shattil says, "is seeing the magnificent things that happen in nature and seeing how self-sufficient, intelligent, and clever animals are."
TIPS FROM THE EXPERTS
Want to photograph the wildlife around your home? Professionals Wendy Shattil and Bob Rozinski offer these tips:
Know how to operate your equipment well so you can move quickly to capture the moment.
Join a nature club or sign up for a photography workshop.
Get to know your subject by observing its habits.
When composing a shot, focus on what you want others to see in the photograph and minimize the rest.
Keep a journal of timely events you would like to photograph, for example, the birth of baby foxes near your home.
Above everything else, be patient.
Lori Cumpston is a freelance writer from Grand Junction, CO.