Musical Memories | Fall 2004 Out Here Magazine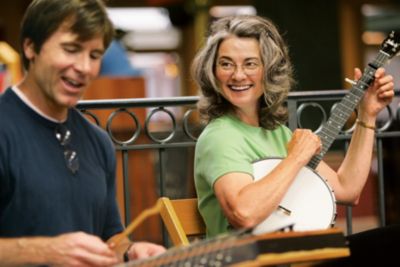 Sheila Kay Adams, accompanied by her husband, Jim, celebrates the long-ago characters who once walked her Appalachian homeland.
By David Frey
Photography John Russell/Maximum Exposure
When Sheila Kay Adams sings the ballads of her western North Carolina home, she sings with a chorus of seven generations. Those songs of love, home, and heartbreak were sung by her parents, and their parents, and their ancestors stretching back to Ireland and Scotland.
When she set out to write her Civil War novel My Old True Love, she looked for inspiration in those old songs, and from the family stories handed down with them.
Adams has never had to go far to find inspiration. The byways of Madison County, where she was born in and lives in to this day on 15 acres of rural Appalachian woodlands, are filled with the characters who inhabit her family's past.
"I always knew I would be homesick if I left," she says. "I knew I could travel this world over, but as the old song says, 'If I go I'll come again, if I go 10,000 miles.'"
She has. She and her husband Jim have crossed the country, and the ocean, singing old mountain ballads made popular again by such films as O Brother Where Art Thou and Cold Mountain.

But Madison County is home. She lives just a 20-minute drive from the family's old homestead. That's home to her daughter; now the next generation to call those rolling mountains their own.
Adams traces her family's singing tradition back to Duckworth Shelton, a fiddler, and singer thrown in jail for counterfeiting in the 1820s. He won over the sheriff, who made him a deputy by day, inmate by night, singing lonesome love songs out the jailhouse window. They're the same songs Adams' parents and grandparents sang to her.
"In the same spirit, they also preserved family history and family stories," she says. "There was such a strong oral history because they had sort of lost the importance of being able to read and write. As a result, you had this really strong oral tradition, and I think their singing and stories went hand-in-hand."
Her family never let go of the tales of old-timers long buried on the side of the mountain locals call the Pilot. "I swear, they'd talk about Duck Shelton just like he was still alive and down the road," she says.
That's what makes Madison County so special, Adams says. Every corner and bend in the road is tied to a piece of family history still very much alive. It will be her home, too, she says, until she's buried on the Pilot alongside her ancestors.
"There's just memories all over Madison County," she says. "I can't imagine living somewhere that didn't have any memories."
David Frey writes in Carbondale, CO.