Living History | Fall 2004 Out Here Magazine
Delighting children and collectors alike, Joe Ertl keeps the toy tractor legacy that his father started
By Carol Davis
Photography by Jeff Frazier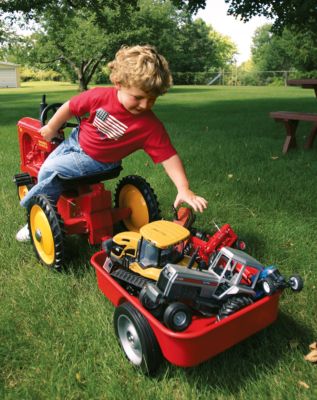 It's a good thing Josef VonHandorf's father, Steve, works at Scale Models; the 3-year-old lives and breathes tractors, his father says — and he has plenty of them.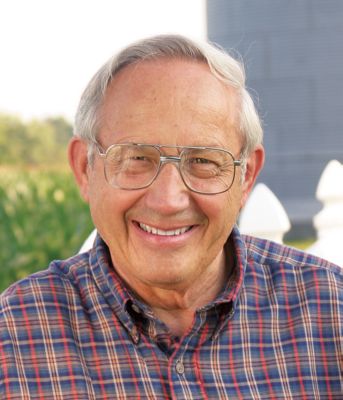 Joe Ertl, whose name is synonymous with toy tractors, began helping his father make toy tractors when he was just 10 years old.
Joe Ertl remembers coming home from school as a child and going to work fashioning 5-penny nails into front axles for toy tractors. Now, more than 50 years later, the toymaker leaves the actual construction to his factory employees.
If the name sounds familiar, it should; the name Ertl has been synonymous with farm toys since 1945, when Ertl's resourceful father, Fred Ertl Sr., was laid off of his foundry job and began making toy tractors from scrap aluminum to sell.
That business, begun in his Dubuque, Iowa, basement, engaged his whole family, including Joe and four other sons who would find their life's work in their father's dream. The entire family would assemble and paint the tractors.
Joe now owns Scale Models, of Dyersville, Iowa, which manufactures farm toys for kids and miniature replicas for collectors.
Those 8-penny axles are long gone; today's models are much more complex, sometimes upwards of 100 pieces. Still, Ertl must give the thumbs up to every axle and other designs that his factory produces.
"He is still the final authority on a lot of things here. Everything that we do, we keep Joe in mind," says Steve VonHandorf, Scale Models' director of sales and marketing.
"We have to make sure we have the right kind of muffler or that the gearbox is in the right place," VonHandorf says.
"The average person will say one of our tractors looks neat, but someone who has had that particular tractor on their farm," he says, "they know it inside out."
LAND OF OPPORTUNITY
Ertl's manufacturing career was set in motion when his father's co-workers at a Dubuque foundry, where Fred Sr. was a pattern and toolmaker, went on strike. Fred Sr., who came to America from Bavaria in 1923, refused to join the picket line, Ertl says.
"He said he would not picket a company that was so good to him and that gave him a job when he came to America," he recalls.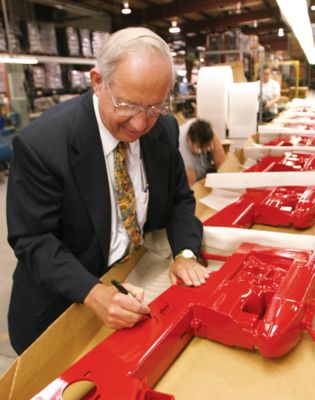 Joe Ertl's signature on his toys and collectibles makes them more valuable to collectors, so he frequently takes a place along the assembly line to sign his name.
So, to feed his wife and five sons, Fred Sr. relied on what he knew best: die cast. He gathered scrap aluminum — iron and other metals were in short supply so soon after World War II — and melted it down with his furnace to make small animal banks and toy tractors to sell in stores around Dubuque.
Each of his sons, including 10-year-old Joe, helped assemble the small toys. Fred Sr. then took the toys to tractor manufacturers such as John Deere, who bought them as a marketing tool to sell the real, full-sized tractors.
The business found success; so much so that when Fred Sr.'s employer called its striking employees back, he stayed with his own company. "He was making more money with the toys than at the factory," Ertl says.
Eventually, the Ertls moved to Dyersville, about 30 miles from Dubuque, and the Ertl Co. continued to thrive as a family-owned business. By 1968, however, Fred Sr. planned to retire, so he sold the business, which eventually would merge with a collectibles company now known as RC2, which manufactures not only farm toys (some of which can be found at Tractor Supply), but replicas of NASCAR vehicles, muscle cars, motorcycles, and off-road sports vehicles.
Some of the Ertl sons stayed with, and would retire from, the original company; Joe Ertl, now 69, stayed for about a year before leaving in 1970 to start his own business, Dyersville Die Cast, which initially did not manufacture toys.
Then, in 1978, White Farm Equipment Co. asked Ertl to manufacture a toy tractor commemorating the White 2-135 tractor. "They approached him because it would not be a mass-produced toy, and the company who bought Ertl Co. mainly was into mass production runs," VonHandorf says.
"So, Joe started back in the toy business and he formed a second division to his corporation, Joseph L. Ertl Inc., and called it Scale Model Toys," VonHandorf says.
Scale Models initially focused on collectors' series and limited editions, VonHandorf says.
"This evolved into Joe re-establishing old partnerships with equipment companies like Case, International Harvester, and AGCO Corp.," VonHandorf says. "Joe actually went back into his former family business. He was continuing to do what he had done his whole life."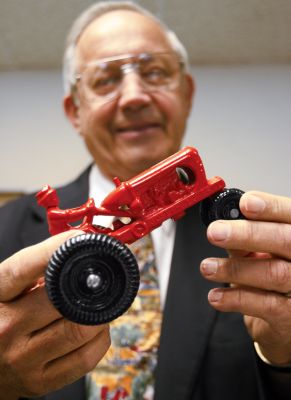 Joe Ertl has kept his father's original die casts and produced several replicas some 50 years after the first Ertl tractors were manufactured.
DECISIONS, DECISIONS
Before Scale Models adds to its inventory of nearly 200 models, Ertl and VonHandorf consider what's already on the market. "There are so many models of tractors, and some of the best have already been made," VonHandorf notes.
Once they decide on a model, Ertl photographs every detail of a real, full-sized tractor of that particular model, and gives the pictures to a craftsman who makes a wooden mock-up.
After Ertl tweaks the design for authenticity — "I've had the good fortune to be around many of these models," he says — castings are made and the new model is added to an inventory containing established names such as John Deere, Massey Ferguson, Allis-Chalmers, AGCO,
Farmall, Ford, Oliver, Case, New Holland, and Kubota.
"We do everything here. We die cast all of our toys, then assemble all of the toys, (and) paint all of our toys," VonHandorf says. "If something has any plastic parts, we ... make our own injection molding."
Most Scale Models toys are sold through farm stores such as Tractor Supply Company, or farm equipment dealers, Ertl says.
They occasionally make special, commemorative toys. "We made up a special tractor for President Bush — one like he has on his ranch," Ertlsays. "It's a one-eighth scale John Deere tractor, a one-of-a-kind."
The most popular items to roll off Scale Model's assembly line are pedal tractors — tricycle-size riding tractors — for young children.
"The reason is that a pedal tractor is something that can be in the house ... or out in the garage or out by the sandbox," VonHandorf says.
"They're big and made of aluminum and very durable."
They also cultivate emotion, he says. "I talk to a lot of farmers who say, 'I got a pedal tractor from back in the 1960s. My kid had it and now my grandkids come out to the farm and are driving it,'" VonHandorf says. "It seems like the smaller tractors are fun and serve their purpose at the time, but pedal tractors seem to cross generational lines."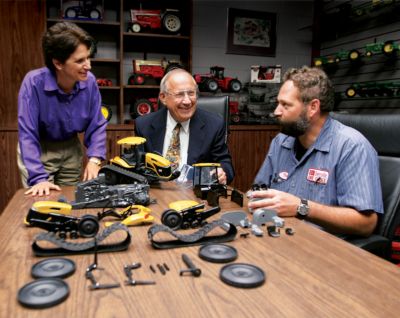 Some of Scale Models' tractors have more than 100 parts — many more than the family's original tractors 50 years ago. But no matter how intricate their tractors are, Joe Ertl, with daughter Jane and son Don, requires that they be authentic.
CONTINUING A DREAM
Ertl's business also crosses generational lines; it's wholly owned by him, his wife Helen, and his three children, two of whom live in Dyersville and help run the business.
Daughter Jane handles all administrative functions and son Don, who oversees the tool shop, is heir apparent. Another daughter, Julie, lives in the Northwest.
The Ertls are devoted to the town of about 4,000 they help put on the map. Joe Ertl is a former state representative, they donated land to a local cemetery, and they are determined to keep their factory in Dyersville, where it provides jobs for about 135 residents.
"The family is very much part of the future here," VanHandorf says.
Indeed, Ertl was inducted in 1999 into the National Farm Toy Hall of Fame, located right there in Dyersville, and site of a large annual toy show, which are popular events for collectors.
"At toy shows, 75 percent of the people there are adults, people 50 to 80 years old," VonHandorf says. "They worked very hard all their lives, became successes, and now they love collecting toys. They collect their history and their past."
"I can't tell you how many times I've heard, 'I had a tractor like that,' or 'My dad had a tractor like that,'" he says.
Ertl thrives on such conversations, and, though he and his wife spend Iowa's cold winters in a warmer climate, he has every intention to continue the dream his father started so long ago.
"People ask me how long I'm going to make toy tractors," Ertl says. "I say, 'Until I make them all.'"
Carol Davis is editor of Out Here.