Cut Your Food Bill | Fall 2004 Out Here Magazine
(Without Clipping Coupons)

By Vicki Brown
Photography by Taylor Jones
Angie Zalewski routinely swings by the grocery store meat department looking for reduced prices — a key strategy to feed her family of four on $135 to $150 a month.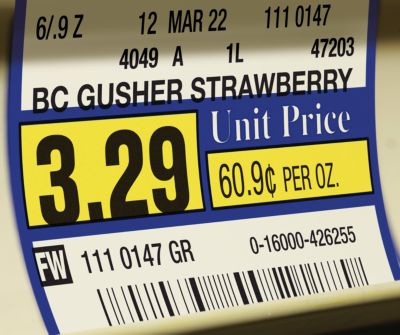 "I was in the grocery store at about 7:30 in the evening. Normally, the reduced-for-quick-sale meat would have been snatched up earlier, but that night there were all these cooked, whole pot roasts that are normally about $6 to $7 a pound. They were marked down to $1.50 a pound," Zalewski says. "That's a pretty good deal.''
But she got an even better deal.
She knew the department would close soon and the meat — reduced because it had reached the sell-by date — couldn't be sold the next day. So she told the manager she'd buy all 18 pot roasts if she could have them for $1 a pound.
"He looked as his watch, looked at the roasts, and said okay,'' Zalewski says. Into her freezer went 18 main dishes, says Zalewski, who founded the Frugal Family Network with Deana Ricks to promote living within your means.
"That's really an advanced, black belt shopping skill," Zalewski says with a laugh.
But anyone can cut spending on their grocery bill — without clipping coupons or shopping at 10 different stores, Ricks and Zalewski say.
Both women got serious about saving when they decided to stay home with their children. Their budget-cutting conversations led to the Frugal Family Network to share tips.
"Your groceries are equal to your car payment or more. This is worth managing,'' Ricks says. While the Food Marketing Institute estimates the average family of four spends $450 to $500 a month on groceries, Ricks spends $200 a month to feed her family — her husband and two teenage boys in Austin, Texas.
Some of Zalewski's savings come from her garden at her home near Dripping Springs, Texas, but most Frugal Family strategies apply to anyone.
First, plan your shopping. Make a list and stick to it to cut impulse purchases.
"One quarter out of every dollar spent at the grocery store is spent on an impulse item," Ricks says, noting that store marketing takes advantage of that. While a sale item on the end of the aisle is generally a good deal, it might be paired with another, costlier item — bargain green beans with pricey French-fried onions, for example.
List the 10 to 20 items you buy most frequently and check the prices at several stores to find the best bargains.
Be sure to check the unit price. Kids' fruit snacks might be just $1.99, but that could translate to $4 a pound, Ricks says.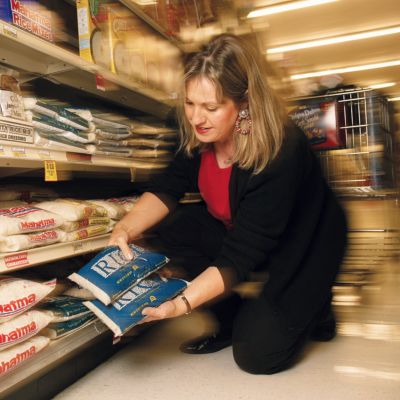 By comparing unit prices, Angie Zalewski feeds her family for less by such methods as shopping the bottom shelves for better prices.
Then, reach to the right and shop the top and bottom shelves.
Bagged items, such as cereal, rice, and pasta, usually cost less than their boxed counterparts. Store brands also are less expensive than name brands.
"You always find the store brand to the right, because most people are right-handed and the store makes more money off their own brand,'' Ricks says. Not only is the store brand cheaper, it may be the exact product as the national brand.
"At some point the factory that cans Del Monte vegetables stops the line, pulls off the Del Monte label and puts on a store brand label,'' she says. That's not always true — a store might allow more water and less tomato puree in ketchup. The only way to find out is to try the brand.
National food manufacturers pay a premium for their products to be on the middle aisles at eye level, so they recoup the prime-position cost with higher prices. "Any product you find, the top and bottom shelf will have the least-expensive item,'' Ricks says.
SHOPPING TIPS
Deana Ricks offers more tips for big savings:
Plan weekly menus around store sales.
Always take a shopping list; don't guess.
Don't automatically take a shopping cart if your list is small.
Put impulse items in the child seat area of the cart, then reconsider their purchase while in line.
Pre-bagged produce is often a better buy than loose produce.
Look for product rebates, and don't forget to ask for rain checks on out-of-stock sale items.
The more you stay, the more you pay.
Bread and milk are shelved apart so shoppers will pick up other items as they walk from one side of the store to the other.
Beware of anchoring — limiting sale items to a certain number. A limit of six boxes of on-sale macaroni and cheese might fix that number in your mind so you'll buy that many whether you need six boxes or not.
Ricks also advises shopping the sales — especially loss leaders. Those are weekly sale items the store takes a loss on to get you in the door.
"If there's a deal at one store, I'll go there to get that item, " Ricks says. She plans her menus around the sales and purchases as much as she can store.
Finally, buy as much raw food as possible — food that hasn't been processed, cooked, or packaged, she says.
And eat seasonally. "Don't buy watermelon in December."
Nashville, Tenn.-based freelance writer Vicki Brown buys only reduced-price meats and store brands.