Creature Comforts Give Barns New Life | Fall 2004 Out Here Magazine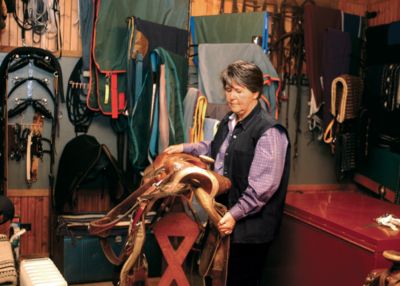 Cherry Hill's heated tack room has hot and cold running water, a washer and dryer, and plenty of counter space for cleaning tack.
By David Frey
Photography by Lourie Zipf
These days, asking someone if they were raised in a barn can be quite a compliment.
New technologies and materials are putting old barns out to pasture. Different ways of thinking about these age-old buildings make for barns that are safer, more comfortable, and a place you or your livestock won't want to leave.
You don't have to start from scratch, either. Old barns can get an update with accessories.
"There's always potential there," says Tereasa Fry, with designer services at FBi Buildings Inc., in Remington, Ind. Old barns offer a unique atmosphere, she says.
"In a new barn, you're not going to get 100-year-old timber. In a new barn, you're not going to get the character and quality of the barn you have," she says.
More and more, she says, barn owners want things people didn't used to think about. Bigger stalls so their animals are comfortable. Doors and windows to improve ventilation. But they want better space for people, too.
"These buildings are not just housing animals anymore. They're for working in," says Cherry Hill, of Livermore, Colo., author of 25 books on horse training and care. She also produces the website www.horsekeeping.com.
Barns — both new and updated — are being used for more than simply housing animals; they're workplaces, too, says author and horse expert Cherry Hill.
Her tack room is heated and insulated, with hot and cold running water, a washer and dryer, and lots of counter space for cleaning tack. A wash rack — also hot and cold — gives her a place to bathe her horses with plenty of space for veterinarians to spread their tools.
She put in cupboards for odds and ends and racks for towels. A tool room not only keeps clutter out of the aisles, it houses the central vacuum system.
"People walk into my barn and say it's cleaner than my house," she says, laughing.
A separate building for hay cuts down on fire danger. Translucent panels between the roof and walls let in lots of light while long overhangs keep out summer heat.
Others go to greater lengths. High-tech security systems. Cameras that let them watch from home — or keep an eye on a foaling mare without bedding down in the barn. Sprinkler systems. Even automated fly spray misters.
"Even though it's mainly for housing the horses," she says, "if you make it people-friendly and add creature comforts for people, you enjoy it more and you spend more time there."
David Frey writes in Carbondale, Colo.