Welding Made Easy | Fall 2003 Out Here Magazine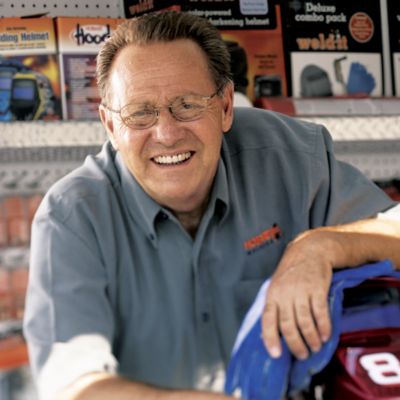 Nearly anyone can weld, Gary Perry says.
Get fired up with the right equipment
By Noble Sprayberry
Photography by Matt Nichols
Gary Perry tours the nation with a 14-foot, gear-packed trailer he uses to provide a simple message: with the right equipment, welding is an indispensable skill.
Perry, who sets up shop at Tractor Supply Company grand openings, teaches the basics of the craft and the keys to buying the proper supplies. And in five minutes, someone who never welded before can learn how.
"I like for people to think of it as a caulking gun rather than a welder," he says of the wire welding technique he believes is the easiest for beginners.
Do-it-yourself welding is beneficial when gates break, stock tanks get holes, and lawn tractor levers snap off, says Perry, a salesman for Inland Sales, which represents Hobart Welders. "When a weekend or hobby farmer is doing something with a tractor or blade or plow or something, and it breaks, these days it's hard to find somebody to weld it for them," Perry says. "To have the ability to weld with your own machine gives you a lot of versatility."
But welding isn't just for farmers, Perry says. "A lot of people are starting hobbies where they're doing welding," he says. "I sell a lot of these welders to women who are doing arts and crafts like lawn ornaments, and they're making wind chimes and mobiles."
Indeed, with the basic knowledge and a little practice, anyone with a halfway steady hand can weld, Perry says. "We realize that the vast majority of people buying welders are occasional welders, meaning they don't weld every day," Perry says. "(So) we set them up with the easiest, best-understanding machines we can get in their hands."
Doing your own welding saves time and money.
Wire welders are available in a range of prices determined by the power and number of features, Perry says. Simple units cost $199 and full-featured models can cost nearly $1,500, he says.
Several key decisions should determine which unit to buy. First, consider the thickness of the metal that you plan to weld, and then evaluate a welding unit's amperage, or the strength of electric current.
Also, consider the electric source. Some units can use common 120-volt electrical outlets found in homes or workshops.
Generating the heat to weld thicker material requires a 230-volt outlet, usually used for appliances such as electric ranges or hot water heaters.
No matter which welder you choose, the key to safety and accuracy is a welding helmet.
The welding process generates an electric arc, requiring a helmet with a dark visor to protect the eyes. Self-darkening helmets range in price from $89 to $189.
People once learned welding from a parent or grandparent, but that doesn't happen as often today, says David Anderson, manager of retail sales at Hobart.
That's where Perry steps in, to demonstrate the basics, guide his students toward the right equipment, and encourage them that they can do it.
Noble Sprayberry, is a freelance journalist based in Dallas.