Keeping an Eye To the Sky | Fall 2003 Out Here Magazine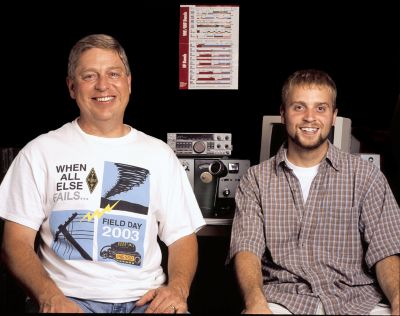 Joel Esslinger and his son, Adam, are licensed amateur radio operators.
By Noble Sprayberry
Photography by Robert Borel
Storms usually blast from west to east across Indiana's mostly flat countryside and the willful weather can rage violently through one community only to dissipate before reaching the next.
Joel Esslinger, and others like him, uses amateur radio to track the passage, helping to sound warnings when necessary, and the "all clear" when they can.
They report through a national system called SKYWARN, which the National Weather Service monitors.
Listening to radio traffic often tells the tale of tornadoes or damaging thunderstorms, Esslinger says. "You can hear of places 50 or 60 miles to the east dealing with storm damage but here there are blue skies because it's already passed through," he says.
Esslinger, 51, of Fort Wayne, Ind., considers his efforts a community service that dovetails with habits and interest he developed years ago.
"When you're a kid, you sit on a hillside and look up to the clouds and see shapes and other things," he says. "That's me. I'm one of these people that likes to look up and take in the view."
Volunteers participate in SKYWARN to provide up-to-date details of severe weather ranging from tornadoes and hailstorms to winds greater than 50 mph and property damage. "All of the nasty stuff," Esslinger says.
Esslinger's weather watching began to form with a third-grade science contest that produced a working radio. By the 1960s, his brother, Michael, joined hundreds of other amateurs as a licensed radio operator. "He always bugged me about getting a license but I didn't until I had a son who got interested and then we took the plunge," Esslinger says.
USEFUL WEATHER WEBSITES
www.weather.gov
www.weather.com
www.intellicast.com
www.accuweather.com
SHORTWAVE RADIO WEBSITES
www.dxing.com
www.naswa.net
Esslinger, who works in the Information Technology Department of the Indiana Institute of Technology, and his son Adam, now 22, passed the tests in 1996 qualifying them for radio licenses.
His interest in radio introduced him to the SKYWARN system.
Esslinger acknowledges that he often follows forecasts and details of the jet stream to learn whether to expect snow or soakings. And he speaks reverently of nature's power.
"We had tornadoes move through here a couple of years ago," he says. "I remember the weird look in the sky and you could see some of the more intense cells skirting around the town."
Nearly 250,000 people nationwide volunteer for the weather watching effort, says Rainer Dombrowsky, chief of the National Weather Service's Observing Services Division.
"What we try to achieve is a man-machine mix," Dombrowsky says. "A machine can give us an indication of what may be there but these people really show their value by providing us the ground-truth of what is there."
Noble Sprayberry is a freelance journalist based in Dallas.