Heirloom Seed Savers | Fall 2003 Out Here Magazine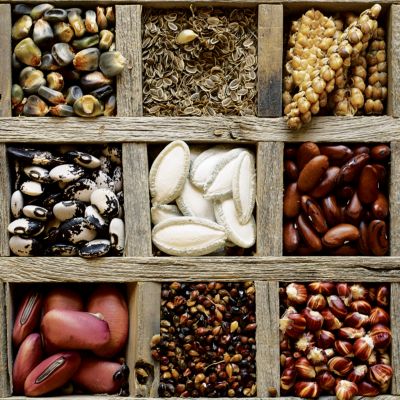 A compartmentalized drawer with different seed varieties.
Keeping rare fruits and vegetables from extinction
By Stephen Leon Alligood
Photography by Doug Wells
To most people, an heirloom is fine china or a piece of jewelry, but to Kent and Diane Whealy, seeds are the most precious gift one generation can leave to its successor.
Practical, too. You can't eat a silver broach, but you can bite into a Cherokee purple tomato or rattlesnake snap beans.
You won't find these varieties in the commercial seed magazines that arrive in the mailbox like clockwork each January and February.
But thanks to the Whealys and the nonprofit Seed Savers Exchange, which they founded 28 years ago and operate in Decorah, Iowa, these unusual varieties and thousands more are available to the green-thumber who wants to grow something different than what the neighbors have in their garden.
All tomatoes are not red and round, Kent Whealy notes. Just because the older, unusual varieties aren't commercially grown does not mean the average home gardener can't enjoy them.
That's the premise of Seed Savers Exchange, which now has 8,000 members in the United States, Canada, and two dozen foreign countries.
Seed saving became a way of life for the Whealys in the early 1970s when Diane's great-grandparents gave her seeds they had brought with them decades earlier when they immigrated to the United States from Bavaria.
Her Grandpa Ott's purple morning glory, featuring a red star in the flower, and a pink tomato, meaty and flavorful, were gifts that kept on giving.
"Those seeds got us to thinking that those varieties would have disappeared if they hadn't been passed on," Whealy says. That, he adds, would have been a shame.
"People always brought the best seeds of the best varieties when they came to this country. There's a tremendous heritage to seeds, family stories that go along with them."
But there's another reason for planting heirloom seeds. "It's important for the genetic possibilities," he says, noting many of the seeds sold today to home gardeners are hybrids and uniform in their color, texture, and taste. They also are uniformly susceptible to diseases and insect infestations.
In 1970, blight reduced the North American corn crop by more than 15 percent, Whealy says. Corn particularly was susceptible because more than 70 percent of the corn grown in the United States came from the same parent lines.
The Whealys believe in seed pool biodiversity because some varieties offer natural defenses to disease and pests.
Each year, SSE members receive a seed catalog offering 12,000 varieties of rare fruits, vegetables, grains, flowers, and herbs.
Members, such as Craig LeHoullier of Raleigh, N.C., can buy seeds through the catalog.
A chemist by trade, LeHoullier is passionate about tomatoes. "I'm always looking for something new to grow in my garden. Seed Savers has been great for that," he says.
His quest for "strange tomatoes" began about 1989 when he was given a few seeds said to be from the Cherokee Indians.
"I just assumed it would be a dark red tomato, but to my surprise it was a dusky rose, burgundy color," LeHoullier says.
Dubbed Cherokee Purple, this tomato, once destined for extinction, has found new life through small seed companies.
At SSE headquarters in Iowa, the Whealys do more than save seeds. They also plant them at their combination headquarters and farm. "We grow 2,400 varieties of heirloom vegetables, based on a 10-year rotation. Each year, we plant 10 percent of the varieties," Whealy says.
Membership is about $30, but nonmembers can order from the annual catalog. Seed prices vary, from $2.50 for a packet of moon and stars watermelon seed to $10 for a pound of black Valentine beans.
SSE members reap the reward of harvesting "fruits and vegetables that your grandfather used to grow," but also they are part of an organized effort to save the heirloom varieties that could disappear forever, Whealy says.
"What we're trying to do is preserve these for future generations," he says. "Passing them on, that's what it's about."
Stephen Leon Alligood lives and writes in Middle Tennessee.