Animal Tales | Fall 2003 Out Here Magazine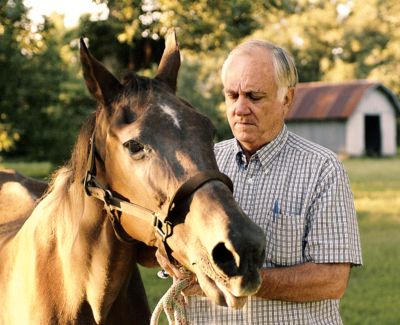 Dr. Bob Schwebel with a patient.
Four-legged patients keep this country veterinarian from retiring
By Marti Attoun
Photography by Bob Schatz
Dr. Bob Schwebel thought about retiring two years ago when he sold his veterinary clinic in Lake Jackson, Texas. Then his four-legged friends set him straight.
A horse with sore withers, a goat with diarrhea, a cow having trouble calving — the country vet couldn't turn them away. The new clinic owner wasn't interested in treating farm animals, so Schwebel set up shop on his old homestead in nearby Brazoria.
Today, he makes house calls — or rather barn calls — down the same country lanes where he began his practice in 1966.
"I enjoy going to the farm and visiting with the people. That's why I keep doing this," says Schwebel, 65. "I've treated one horse for 25 years. He's belonged to three different little girls and had three different names."
Old-fashioned country vets such as Schwebel, who run a general practice and don't mind swatting away yellowjackets while they tend to their patients, are a rare find, worth their weight in gold.
For 40 years, Schwebel has treated all sorts of critters: boa constrictors, turtles, emus, llamas, sugar gliders. "I've never turned anything away," he says.
He has a pleasant bedside manner, but some of his patients can be downright cantankerous. Indeed, he received quite a thundering reception once while treating a Jersey cow. The patient belonged to an older woman. "She didn't have any working pens, so I roped the cow and tied her to a pole in the barn," he recalls. "I gave the cow a shot and she pulled on that pole and the whole barn fell down on top of us." Both patient and doctor shook themselves off and walked away.

Large animals usually are Schwebel's regular patients, but he also treats emus, turtles, and boa constrictors. "I've never turned anything away," he says. A Charolais cow in labor raised up and hooked Schwebel's nose with the stub of her horn. "I stuck gauze up my nose and went ahead and did the C-section," he says.
After graduating in 1962 from Texas A&M University, Schwebel worked for six months as a government meat inspector, then spent two years as a toxicologist.
Besides his daytime job, he began working evenings for Dr. Russell Stanger, 80, a longtime Brazoria veterinarian recently inducted into the Cowboy Hall of Fame.
With encouragement from his wife Patricia "Tissie," Schwebel plunged in and opened his own full-time practice, Lake Jackson Veterinary Clinic. His clientele was split among small animals and large farm animals.
When he first began making rounds, Schwebel sometimes accepted eggs or vegetables for his $25 calf-delivery fee. Forty years later, he doesn't work for zucchini, but veterinarian fees certainly haven't kept pace with fees charged by human medical doctors.
"For good reason," he notes. "Unless it's a registered herd, cows aren't any more valuable today than they were 20 years ago."
He chuckles at the valuable lessons he's learned the hands-on way — or the hands-in way. Years ago, he didn't wear gloves while palpating cows — that is, doing a rectal exam to determine if a cow is pregnant, or how far along she is in her pregnancy.
After one exam, he noticed that his class ring was missing. "I never did find it," he says.
As a country vet, Schwebel is on call 'round-the-clock.
Old-fashioned country vets, such as Schwebel, are a rare find these days. "A cow doesn't determine when she'll have a calf or a horse when he'll get cut," Schwebel says. "Every time it thunders and storms, I know I'll get a call. A horse will run through a fence."
But he's always found time for his community, and to teach others about the way of life he dearly treasures. For 30 years, Schwebel led an Explorer Post — a program of the Boy Scouts of America — and introduced teenagers to veterinary medicine. He taught horsemanship for 20 years to 4-H kids and still teaches them how to show Boer goats.
But it's been his life's work that has provided Schwebel a legion of stories to tell his grandchildren; stories of cranky cows, beloved pets, and lessons learned.
Being a good communicator is one lesson that has stuck with him for 40 years, Schwebel says. One of his first calls was from a Czech farmer in Snook, Texas, who needed his sick pig doctored. "You have to sacrifice the sick pig and do an autopsy so you know how to treat the rest of the herd," Schwebel explains now, as he did that day. The farmer agreed to the autopsy. Afterward, he asked if the pig would live. "I told him that I could now treat the rest of the herd. He said, 'Well, that's the only pig I had.'" Now another word is giving Schwebel trouble: Retirement. He may never learn what it means.
Marti Attoun, of Joplin, Mo., writes for several national magazines.