3 Steps To a Well-trained Dog | Fall 2003 Out Here Magazine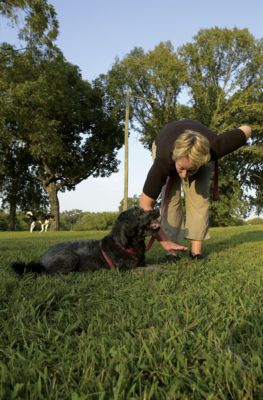 Dianne Naff, of Nashville, Tenn., works on obedience training with her dog, Sunny.
Repetition, Patience, Motivation


By Vicki Brown
Photography by Christopher Berkey
Training dogs starts with showing the canine what to do over and over again, Woody Thurman says. "Most of the time when a dog learns to do something, he has bonded with his owner," says Thurman, who owns Twin Lakes Kennels in Laurel Hill, N.C., conducts seminars on dog training, and is featured on ESPN2's K9 Nation.
He offers the acronym RPM — for repetition, patience, and motivation — to dog owners who want to train their own pets. To teach a dog to sit, the owner must lift the animal's head and push down on his rear end hundreds of times.
You'll know the dog finally understands when you say, "Sit," and reach for the dog's rear end and it's already on the ground, Thurman says. "Then, and only then, do you begin to use classical conditioning, with correction involved."
Correction can be as simple as a gentle jerk on the leash, or a light tap on the dog's hind end with a rolled-up newspaper.
Basic obedience training — come, heel, sit, and stay — begins with acclimating the dog to a collar that loosens and tightens. Then, tether the dog to a fence, tree, or post — anything that won't move.
Once the dog relaxes and lies down, leave it tethered for 30 minutes before putting it on a long leash (about 15 feet). "He'll see it as being turned loose," Thurman says.
Pick a spot and walk to it. If the dog doesn't follow, drag or pull the dog, but don't talk or coax it. Pick another spot, walk there, repeating the process for about 10 minutes. Tether the dog again for 30 minutes so it can absorb what it has learned, he says.
Do this for three days. On the fourth day, as soon as the dog forges in front of you, do a 180-degree turn and change directions, surprising the dog. Repeat this a few times.
Soon, he'll make eye contact. "He's learned that unless he watches you, he doesn't know what you are going to do," Thurman says. "You've changed his life."
Vicki Brown is a freelance writer in Nashville, Tenn.