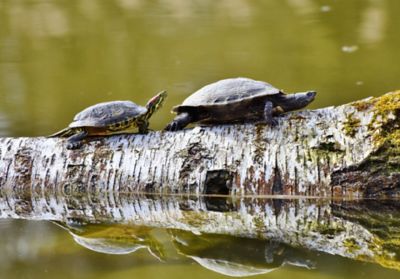 Life in a Pond
Benjamin Kilbride, Editorial Assistant at The Old Farmer's Almanac
Learn about the wide variety of creatures that live in ponds! The next time you're out fishing or enjoying a picnic by a pond, take a closer look at what's going on under the surface.
Wildlife That Live in Pond Habitats
Amphibians:
Frogs
You can easily find Wood frogs (dark brown), Leopard frogs (light green and black spotted), and Pickerel frogs (green-brown with dark brown spots) on the edges of ponds in the spring and summer, croaking to their hearts content. In Central and Eastern United States, another common frog is the Spring Peeper, named so for the iconic "peeping" sound they make on warm spring evenings. In large groups, the sound can be quite loud. They can be identified by a dark "X" marking on the back of their necks.
Newts
Newts are salamanders, but not all salamanders are newts. In Eastern United States, you can find the very common Red-Spotted Newt in either its terrestrial stage (called a red eft) or in its adult aquatic stage. In its terrestrial stage, the red eft is a bright orange or red color, and is found on land in wet or damp areas of forests. Avoid handling them without gloves as salts and oils in our skin can prevent efts from breathing through their skin. In its aquatic stage, Red-Spotted Newts become a yellowish-green color and gain a flat, rudder-like tail. They live underwater in ponds, but can be seen surfacing occasionally.
Turtles
Common turtles include the Eastern Painted Turtle and the Snapping Turtle. You can often find turtles basking in the sun on rocks or logs on warm days. Avoid getting too close as they may abandon their perch and disappear into the pond.
Birds:
Ducks
One of the most widespread ducks, the Mallard duck is often seen paddling around ponds. The males have green heads while the females are light tan with brown spots. When flying, you can hear Mallards making a distinctive soft whistling noise with every beat of their wings.
Kingfishers
Named after their fishing skills, kingfishers have a long beak (for snatching fish out of water) and a spiky frill (that looks somewhat like a mohawk). You can find kingfishers perched on branches that hang over the edge of a pond, watching for fish. When they see one, they dive off the branch and straight into the water to catch their prey. Kingfishers make a distinctive "chittering" call when they fly.
Osprey
Birds of prey, Osprey predominantly eat fish. They make nests on the tops of old or dead trees where there is a good vantage point. They have a clutch of 2 or 3 eggs.
Mammals:
Beavers
While often considered a pest by humans due to their constructive (and destructive) nature, beavers are beneficial to a variety of wildlife. Beavers build their own habitat by damming a small stream or river to flood low-level areas of forests. The flooding creates a pond, which provides habitat for nesting waterfowl, foraging birds, amphibians, insects, and fish, which in turn is a food base for all kinds of wildlife, including humans. Beavers build a home out of sticks and mud in ponds (called a lodge), which is accessed from under the water.
Muskrats
Experts at swimming, muskrats look like dark brown mice or rats and live in wet areas. They mostly eat plants.
River Otters
Generally living along rivers or streams but also found in ponds and lakes, river otters swim by flexing their bodies up and down and paddling with their webbed hind feet. When they dive underwater, river otters close their ears and noses to keep water out. They hunt fish underwater as their main food.
Insects:
Dragonflies
The life cycle of a dragonfly comes in three stages: Egg, larva (nymph), and adult. Dragonflies remain in their nymph stage for 2 months to 2 years, depending on the species. The nymph lives underwater and will only emerge when it's ready to morph into an adult. The nymph climbs up some vertical-growing vegetation and clings to it. Over an hour and a half, the dragonfly adult emerges from the skin of the nymph and is ready to fly.
Pond Skaters
Also known as water striders, Pond Skaters use their light body and thin legs to "walk on water," using the surface tension to skate across the surface of ponds. They have sensitive hairs on their legs that can sense if an insect has fallen into the water, at which point the Pond Skater will dart to the spot to catch its prey.
Water Beetles
Water beetles carry an air bubble underneath their bodies, which provides an air supply while underwater and prevents water from getting into their respiratory systems.
Fish:
Bass
Smallmouth and largemouth bass can both be found in ponds, but largemouth does better in warm water. They can live for up to 15 years (though usually closer to 11 years) and can grow to be about 12 pounds as adults.
Trout
A common type you might find is the brown trout. Brown trout can live for up to 10 years (average is closer to 5 years), and can grow to be 6 to 10 pounds as adults
Perch
Perch can live for up to 10 years (average is closer to 7 years), and can grow to be 3 to 6 pounds as adults.
Fishing Recipes
Enjoy this tasty recipe made (hopefully) with fresh caught fish!
Crispy Trout With Ginger and Lemongrass
If you don't like whole fish, you can make this dish with a thick white fish filet, such as halibut. Cut a pocket into the side, and stuff the pocket with the herbs.
INGREDIENTS
6 stalks lemongrass tops trimmed and outer layer peeled
1 piece gingerroot about 3 inches long, peeled and cut lengthwise into 6 thin slices
12 sprigs cilantro
12 sprigs mint
12 sprigs basil
6 whole boneless trout, 6 to 8 ounces each
1/2cup all-purpose flour
2 teaspoons kosher salt
1 teaspoon freshly ground black pepper
3 tablespoons vegetable oil
INSTRUCTIONS
Preheat oven to 400 degrees F. With the blunt side of a heavy knife, pound the lemongrass stalks to flatten them slightly. Cut each stalk in half. Stuff 1 stalk, one-sixth of the ginger, and 1 sprig of each herb into the cavity of each trout. Mix the flour, salt, and pepper in a large shallow pan. Coat each trout with the seasoned flour and set aside.
Heat the oil in a large ovenproof sauté pan over medium-high heat until nearly smoking. Add the trout and cook until the underside is browned, about 1 minute. Flip the trout and brown the other side.
Transfer the pan to the oven. Bake until the flesh is opaque and flaky, about 4 minutes. Place 1 trout on each plate; garnish with remaining basil, mint, and cilantro sprigs. Serve with Scallion Pancakes.
Yield: Makes 6 servings.