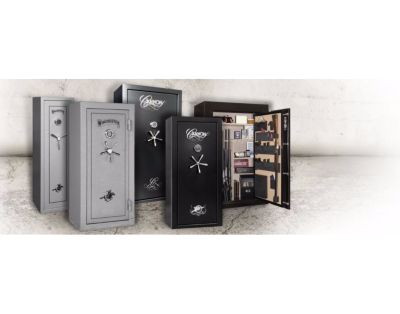 Gun Safe for a Hunter
The right equipment in the field helps hunters stay safe and be successful. Things like scopes, tree stands, duck blinds, hunting vests, backpacks, and brightly colored hats and safety gear are all essential supplies. Having the right gun safe at home keeps families, gun owners and firearms protected while guns are not in use. Choosing the right gun safe for your firearm collection depends on the type and number of guns, as well as the space you have available. Consider the following when choosing the right gun safe for your home:
Size
The average shotgun or rifle length is 24 to 30 inches. So a gun safe to house these firearms should be at least 40 inches tall and 30 inches wide. But larger is better in case more guns are purchased or you want space for ammunition or other gun supplies. And make sure the gun safe you're considering has a rifle rack to keep guns separated and upright.
Steel Thickness
Gun owners need a safe that can withstand any attempts to break in as well as protect from fire or other types of damage, and when it comes to steel thickness, the lower the number, the thicker the metal. Choose a gun safe with a steel thickness of at least 10-gauge or lower for the most protection.
Fireproofing
Fireproofing is important for any home safe, and that includes those designed to protect firearms. Fireproof ratings are based on how long it takes the typical house to burn down if no attempts to stop it are made. In most cases, that's one hour. Gun safes should have at least a one-hour fire rating to protect the valuables inside. Make sure the gun safe you are considering has a fire seal on the door. Fire seals expand during a fire to keep fire, smoke and water from seeping into the safe. Fire seals also seal out moisture on a regular basis, which cuts down rust and corrosion on the firearms and other items stored inside.
Multipurpose
A gun safe is a great place to store other valuables along with firearms. Ammunition, jewelry and important documents can be safely tucked inside a gun safe to keep them out of harm's way. No need to have more than one safe if your gun safe is large enough to accommodate other items.
Tractor Supply Co has you covered when it comes to choosing the perfect gun safe. From large to small and everything in between, check out our line of top-rated safes to protect your valuables.