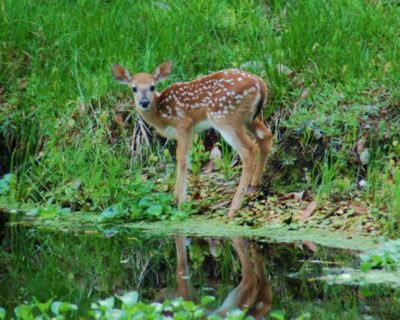 How to Prepare a Deer Plot
Attracting deer to your property, whether for hunting or because you enjoy watching the beautiful creatures graze, is best done through a well-planned deer plot. And a well-planned deer plot includes lots of food and forage that deer love. Having an abundance of nutritious grasses like red clover, chicory and orchard grass keeps deer coming back in every season. Choosing the right forage and high-protein crops requires researching what is already available in your area and planting something else. Choosing the right spot is also important, as deer need to feed where they feel safe and free from things that will scare them away. The following tips can help you prepare a plot that becomes the go-to buffet for deer in your area:
Choose a Location
Choose an area for your deer plot that is well away from roads or high-traffic areas, as cars, farm vehicles and people will scare the animals away. Your deer plot should also be away from any vegetation you don't want the deer to eat, such as your flower or kitchen garden. The deer plot should be in a well-drained area that is not prone to flooding to ensure proper vegetation growth. Deer plots should be at least ½ acre in size and up to 2 acres. If the plot is any smaller, the deer will destroy young crops before they have a chance to grow. Choose a site where the wind will be predominantly in your face or perpendicular to typical deer traffic when hunting from your deer blind. The site should also be primarily flat while following the natural contour of the land.
Test the Soil
Testing the soil where you plan to plant deer forage is the next most important step in preparing your plot. If the soil is lacking in nutrients for the grasses and vegetation you want to grow, you'll have a poor yield of immature plants. Sending off a small sample of soil to your local farm extension and waiting for the report before you plant will save you time and money. While you are waiting for your soil report, take time to kill off all weeds in your plot. Start with an all-inclusive product like Round-Up that destroys all vegetation. Give the soil a few days to rest and for any residual herbicide to disappear before plowing. Once everything is dead and removed from the plot, it's time to plow the soil. After you plow and receive your soil report, add the right amendments to bring the soil to the proper pH and nutrient level. It may feel like you're going to lots of unnecessary trouble, but killing weeds and unnecessary vegetation creates a healthier plot that's more attractive to deer.
What to Plant
Along with tasty grasses like chicory and orchard grass, deer like sweet treats such as sorghum and buckwheat. Add high protein options like peas and soybeans, as well as alfalfa, kale and corn. Deer also love apples, so consider planting a few apple or crab apple trees along the perimeter of your plot. Deer enjoy plenty of cover, so add strips of native tall grasses like switchgrass, Indian or bluestem. These grasses grow 5 to 7 feet tall and make deer feel comfortable when grazing or foraging.
When to Plant
Plant perennials in spring and summer annuals in late spring to draw deer in. As summer annuals die off, deer enjoy brassicas and cereal grains as fall frosts raise their sugar content. Add rape, turnips and sugar beets through August, and put in wheat or oats from August through October. The overall goal of the plot is to have something available to the deer year-round to keep them coming back in every season.
Tractor Supply Co offers a complete line of deer plot seed, forage, corn, deer nuggets and mineral blocks to make your plot the perfect deer feeding ground.