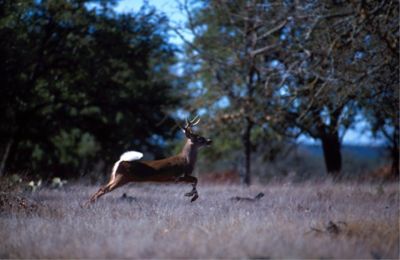 Deer Fencing Designs
Benjamin Kilbride, Editorial Assistant at The Old Farmer's Almanac
Why Get Deer Fencing?
If your garden vegetables have been eaten time and time again by deer—despite your best efforts—you should look into getting professional deer fencing. While there are ways to deter deer with resistant herbs and flowers and simple fences, more often than not they just seem to hop over and munch away on your vegetables regardless of your efforts.
What Deer Eat
The native North American White Tail deer are what is known as Concentrate Selectors, meaning they select succulent stems and leaves for the best diet. Deer mainly browse from a variety of shrubs, trees, and weeds, eating the leaves, twigs, and tender greens in abundance. They also eat nuts and fruit, as well as mushrooms. Deer need to fill their stomach every 3 to 4 hours, which means they are constantly eating! Your garden is a perfect place for easy foraging.
Deer Fence Design
The three most important aspects of deer fencing are the height, angle, and material. Pay attention to these parts and you'll have a highly effective fence. Of course, deer are intelligent and food motivated, so there is always the chance that no matter what you do, a deer will get in. These are simply design pointers that will help to improve your fence.
Height
Fencing against deer has to be built very high. A white tail deer can jump up to eight feet high! This is why so many fences prove ineffective because they are 5, 6, or 7 feet high, but aren't high enough. Your fence should be at least 8 feet high unless you pitch it at an angle.
Angle
Deer can jump high but not far. The solution is to build a fence that is too wide for them to jump across. Build a shorter (6-foot) fence at a 45-degree angle to deter deer. They will attempt to walk under it and meet resistance but never try and jump over as they can't possibly make the distance!
Material
Metal chain link fences are common for deer fencing, and can be effective but expensive. If the deer population in your area isn't large, you can try commercial heavy-weight deer netting. They are cheaper than metal and are easier to work with to build a simple fence on your own.