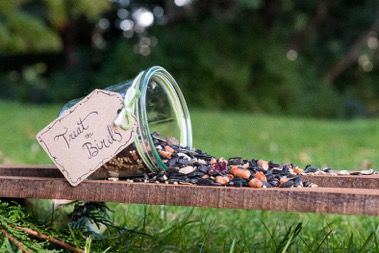 Special Treats - Cakes, Bells and Peanut Balls
Courtesy of Global Harvest Foods
Treat the birds! That's what we always say. Those little guys don't have it easy and anything we can do to help goes a long way – from food and shelter to fresh water. But why stop there? Why not give them something to really chirp about? After all, according to our friends at FeederWatch, well-fed birds sing more often.
"The researchers found that well-fed birds sang more than the birds left to fend for themselves…Dominant and subordinate birds both increased their singing when they god extra food…" Project FeederWatch, The Cornell Lab of Ornithology
So let's get to snacking. Here are a few of our favorite high energy bird treats and new arrivals – all made right here in the USA and Food Safety Certified:
Seed Cakes made with real fruit and nuts!
Audubon Park Nut & Fruit
Audubon Park Woodpecker
Audubon Park Mealworm
Audubon Park Wild Bird
Seed Cake Basket

Bird Bells easy to hang!
Royal Wing Songbird
Audubon Park Woodpecker
Audubon Park Mealworm

Peanut Balls
Royal Wing Peanut Suet Balls – no melt! (pack of four)
Royal Wing Peanut or Sunflower Suet Nuggets – no waste, no mess, ready-to-feed!
Treating birds can be fun for kids too. Try sprinkling wild bird food or dried fruits and unsalted peanuts onto suet cakes. Or coat a toilet paper or paper towel roll with peanut butter and roll it in your favorite Royal Wing bird seed mix. Then go outside and find a tree branch to slip the roll onto. No strings needed! For more DIY bird food fun visit us on Pinterest.
Many well-intentioned bird feeders toss popcorn or peanuts to birds, not realizing that too much salt can make birds sick. When talking about treating birds, it's important to also talk about the foods you should never feed to wild birds including salt, processed foods, chocolate, apple seeds, alcohol, avocado and caffeine. Choosing the right foods will make wild bird treats both healthy and fun for everyone.