Help birds avoid window collisions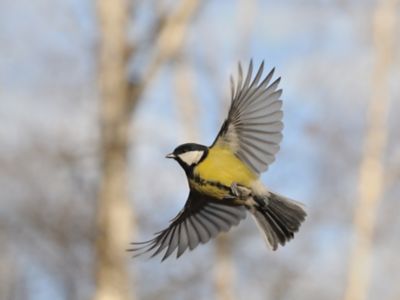 There are simple strategies to prevent bird collisions.
By Jodi Helmer
You hang birdhouses and fill feeders but when it comes to taking care of the birds, food and housing are not as important as taking a simple step to keep birds safe.
Between 365 and 988 million birds are killed every year in collisions with windows in the United States, according to the Smithsonian Migratory Bird Center. With each impact, an important member of the ecosystem is lost.
Birds pollinate plants, eat crop pests, disperse seeds, and scavenge carcasses, says Noreen Weeden, conservation project manager for Golden Gate Audubon Society. The winged wonders also draw a lot of admiration.
"Birds are just beautiful to see and hear," Weeden says. "Watching them connects us with nature."
Most of the 1,000-plus bird species in the United States and Canada have eyes on the sides of their heads; the placement creates a wide visual field that helps them search for food and remain alert to predators but hinders their ability to see straight ahead. Combined with poor depth perception, birds either fail to see windows in their flight path or recognize them when it's too late to change course, increasing the risk of collisions.
"A small bird with hollow bones that's flying 30 or 40 miles per hour won't recover when it hits a window," says Weeden.
The good news: There are simple strategies to prevent bird collisions.
Installing window panes or insect screens will reduce the number of bird collisions because birds recognize the pattern and understand the window is not a pass-through, studies show. Etched glass or stained class, in addition to being beautiful, also makes windows more visible to birds.
For an inexpensive do-it-yourself solution, Weeden suggests wrapping deer fencing or reflective ribbons over a dowel and hanging the homemade "screen" in front of the window. Partially closing the blinds so the slats are still visible is often enough to alert birds to the potential danger of the window.
"Birds recognize (the barrier)," Weeden explains.
Don't bother with decals. The peel-and-stick products marketed as collision deterrents only work if there are a lot of decals on every window, Weeden notes.
Set your bird feeders a little farther from your house to protect your birds. Most of us place feeders in front of windows to watch them, but placing them there can invite collisions for birds en route to the seed buffet.
Birds often use the moon and stars for navigation, flying on their migratory routes at night. The Golden Gate Audubon Society advocates "lights out at night," encouraging homeowners to turn off their outside lights during spring and fall migration to help keep birds from straying off course and colliding with windows.
Even the 9/11 Memorial in New York City practices "lights out," she says.
"If the monitors spot a lot of birds circling the monument, they turn the lights off," she says.
Adding window screens or films, keeping blinds closed, and turning off outside lights are especially important during spring and fall when birds are migrating and the odds of collisions increase.
In business settings, adding a film to the window — such as a decal with the business name — can reduce collisions.
After noticing a vast number of birds colliding with the glass that enclosed a walkway separating two campus buildings, students at Temple University in Philadelphia designed a film with a musical scale; once it was applied, it eliminated the problem.
Different solutions work for different birds, according to Weeden. Using several simultaneous strategies can help reduce the odds of collisions and save birds.
"Once you recognize that bird collisions are a big problem," she says, "you can start to take steps to prevent them from happening."