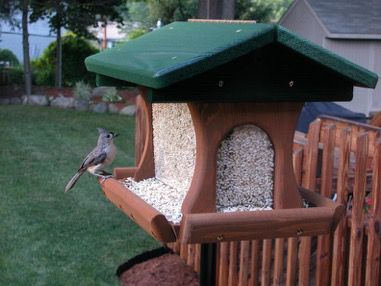 Right Feeders for the Right Seed
Courtesy of Global Harvest Foods
Have you ever wondered why there are so many different types of bird feeders? You're not alone. Finding the right feeder doesn't have to be overwhelming or expensive. We can help you choose the best feeder for the birds you want to attract by breaking down the feeder basics below:
1) Baskets/Cages
Why:Give birds something to hold on to (choose a coated basket so feet will not freeze to metal, or burn in the hot sun), while protecting their wings from brushing up against the rendered fat, which can be dangerous for birds.
Birds:Woodpeckers, Nuthatches, Chickadees, Titmice and others.
Tip:Keep out of direct sunlight.
Food:Suet and seed cakes.
2) Wire Mesh
Why:Keep Robins and other young birds from swallowing whole peanuts (choking hazard).
Birds:Woodpeckers, Nuthatches, Jays and others.
Tip:Keep peanuts dry.
Food:Peanuts.
3) Tube
Why:Perfect for small birds. Keeps seeds clean and dry.
Birds:Finches, Sparrows, Grosbeaks, Chickadees and others.
Tip:Look for a sturdy and easy to clean feeder.
Food:All.
4) Nyjer®
Why:Attract small songbirds without worrying about squirrel baffles or bully birds.
Birds:American Goldfinches, Pine Siskins, Common Redpolls and others.
Tip:If choosing a sock over a tube, be sure to keep dry.
Food:Nyjer/Thistle.
5) Hopper
Why:Great for larger birds and does a good job of protecting seeds from rain.
Birds:Cardinals, Jays, Buntings, Grosbeaks, Finches and others.
Tip:Keep dry and use a squirrel baffle.
Food:All.
6) Platform
Why:Attracts the greatest variety of backyard wildlife.
Birds:Variety of wild birds and backyard wildlife.
Tip:Look for a platform or tray feeder with excellent drainage since these feeders offer no protection from rain or snow.
Food:All.
7) Window

Why:Window feeders are the safest of all feeder types for preventing window collisions.
Birds:Finches, Chickadees, Titmice and others.
Tip:Change seed daily.
Food:Sunflower hearts or a no-waste blend.