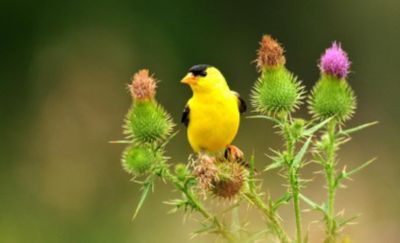 Bird Seed Preferences
Courtesy of Global Harvest Foods
Setting up a bird feeder is a great way to attract birds to your yard, but how do you choose the right type of bird food? To begin, find out which birds frequent feeders in your area by visiting Project FeederWatch, a crowd-sourced database of the "top 25" common feeder birds by state. Next, decide which birds you would like to attract and learn their favorite foods.
Bird seed blends typically include a combination of seeds, grains, nuts and fruit:
| | | |
| --- | --- | --- |
| Common ingredients | Attracts | Feeder |
| Black oil sunflower | Everybody's favorite! | All |
| Sunflower hearts | Small songbirds | All |
| Striped sunflower | Large birds | Hopper or Platform |
| Nyjer® | Finches | Finch Tube |
| Safflower | Disliked by squirrels | Hopper or Platform |
| Millet | Ground-feeding birds | All |
| Cracked corn | Ground-feeding birds | Platform or Table |
| Milo (sorghum) | Squirrels/ground feeders | All |
| Peanuts (unsalted) | Variety of nut-loving birds | Peanut Feeder |
| Mixed nuts | Variety of nut-loving birds | All |
| Mealworms | Insect-eating birds like bluebirds | Mealworm Feeder |
| Dried fruit | Fruit-loving birds | All |
Bird food blends with lots of black-oil sunflower and millet will appeal to most seed-eating birds. Sunflower hearts (shells removed) are perfect for tiny songbird beaks, while larger birds have no problem breaking the shells of striped sunflower seeds.
Tube and sock feeders are easy to hang and simple for birds to use. Store your extra seed in a cool, dry location and check regularly for signs of infestation or mold.
Is your yard a squirrel highway? You might want to try safflower seeds, which birds like cardinals love, but squirrels and "bully birds" don't care for. Setting up a separate feeding station for squirrels is a good idea too.