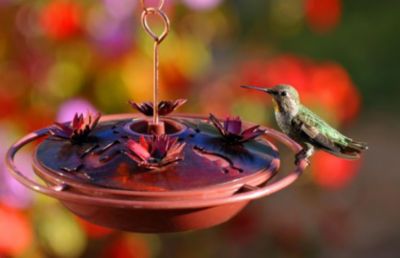 Bird Migration and Feeding
Courtesy of Global Harvest Foods
Look up at the sky in the fall, and you're certain to see groups of birds flying overhead. Did you know that bird migration actually takes place in both spring and fall, day and night, and that you can help migrating birds by doing a few things at home?
Being a Friendly Bird Host
Light, temperature, offspring and food supply all impact bird migration. You can help hungry and tired travelers migrate more easily by keeping your lights off at night, filling bird feeders, providing clean water, and planting native trees, plants, and flowers that offer year-round food and shelter. Most migrating birds consume insects (mealworms/suet), fruit, and nectar, so we recommend providing more of those goodies in the spring and fall to help out our feathered friends.
Spring Migration
In the spring, from March through May, birds that nest in the Northern Hemisphere return to their spring and summer homes to nest and raise their babies (yes, hummingbirds too!). Less natural food is available, because most berries and seeds have already been eaten, little growth has begun, and it's still too early for insects. All species, migrating or resident, appreciate the extra energy supplemental feeding provides at this time of year.
Fall Migration
In the fall, from September through November, babies join their parents on their first migration, so there are more mouths to feed on the journey. We recommend adding more suet to your feeding stations (a fast source of fat and calories), and keeping your hummingbird feeders up until three weeks after you see the last hummingbird. Whether fueling their journey, or helping resident birds gain weight for the cold winter months ahead, your birds will thank you.