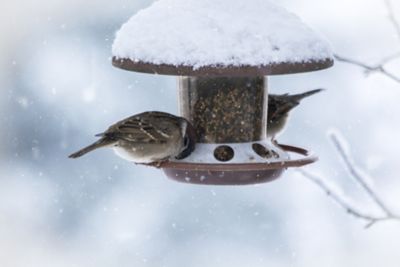 How to Make a Bird Feeder
Benjamin Kilbride, Editorial Assistant at The Old Farmer's Almanac
When the days are colder and food in the wild is scarce, build a bird feeder to help to support local birds through the winter.
Why Make a Bird Feeder?
Building and setting up a feeder can help backyard birds survive the harsh temperatures and conditions of winter. While bird feeders are not essential to the overall life of birds, they can certainly make it easier for our feathered friends when food is scarce. Feeding birds is also a great way to interact with wildlife without impacting their natural behaviors—you can watch and appreciate birds from a safe distance while they eat.
The Basic Build
You Will Need . . .
two 6-inch-diameter terracotta saucers
19 inches of 12-inch-wide, 1/4-inch mesh hardware cloth
zip ties
2 feet of thin rope
tools (as needed): drill, knife or scissors
1. Drill a hole into the center of both of the terracotta saucers. Make sure that you drill a hole that is a slightly larger diameter than your rope.
2. Roll the hardware cloth into a cylinder and overlap the edges by about 1 inch. Secure the edges together using three zip ties: one at the top, one in the middle, and one at the bottom.
3. Tie a bulky and sturdy knot at the end of the rope. Run the rope through the bottom of one of the terracotta saucers, through the center of the cylinder of hardware cloth, and through the top of the second saucer. The cylinder of hardware cloth should rest comfortably in between the two terracotta saucers.
4. Lift the top saucer and fill the hardware cloth cylinder with your choice of bird seed. Tie the rope securely around a sturdy tree branch and wait for the birds to come!