The Butterfly Lady
By Marti Attoun
Photography by Kent Kriegshauser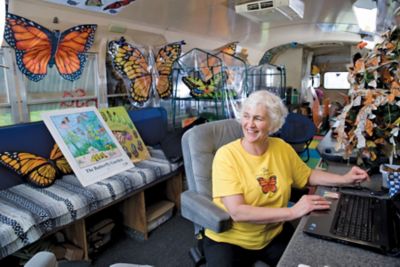 Rhonda Brady is on a mission to save the monarch butterflies and is making miles of progress with help from an old school bus.
"I call it my rolling resource," Rhonda says about the 1990 Chevrolet bus she bought and repurposed into a colorful classroom and greenhouse on wheels. It's her latest way to deliver the message about the plight of the monarchs.
"It's so much fun. I've gone to schools, Girl Scout camps, children's museums, libraries, garden clubs, and retired groups," says Rhonda, who lives on a mini-farm in Galesburg, Ill.
It's hard to miss "Ms. Mari Posa," as Rhonda dubbed the bus after the Spanish word for butterfly — mariposa. A group of retired teachers in Galesburg painted majestic bright orange-and-black monarchs on the outside of the bus. After she parks at an event, Rhonda sets out a butterfly flag.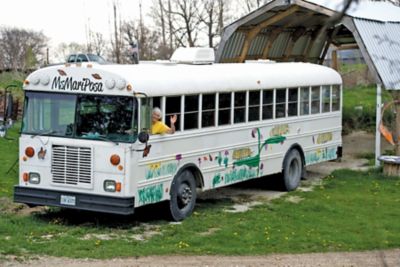 Double-takes and attention to butterflies are most welcome.
"Kids come on the bus and I do activities with them, such as scavenger hunts, and talk about the life cycle of the monarchs," she says. "I stress habitat and that what we do to help the monarchs helps all of our pollinators." Nicknamed the "Butterfly Lady," Rhonda began doing her part to save the winged beauties 20 years ago. Her interest took flight in the 1990s when she was director of a county youth program that included planting butterfly gardens at elementary schools. The more she learned about the monarchs' dwindling population, the more determined she became to help reverse that trend.
"This has become my little soap box," she says. "We really need to be good stewards of what we have."
Boosting Numbers
Early in her mission, Rhonda began visiting every fourth-grade classroom in the county to talk about and show off the butterflies.
"One thing I always do is let the butterflies dance on their hands," Rhonda says. "They have an up-close and personal experience."
The bus is filled with her 20 years' accumulation of posters, books, and maps with information about monarchs and other species of butterflies. It's part greenhouse, too, where Rhonda grows milkweed, which is the only plant where monarchs lay their eggs and the only plant that caterpillars eat.
Depending on the season, she grows marigolds, asters, goldenrod, and other flowering plants that attract butterflies.
"From the time it stops snowing until it starts snowing, I'm planting something to help the pollinators," she says.
In the fall, Ms. Mari Posa becomes a tagging station for Rhonda's volunteer work with the international Monarch Watch program. Rhonda shows visitors how she gently places a sticker the size of a pencil eraser on a butterfly's hind wing so it can be tracked during its fall migration to Mexico. The sticker has a code with numbers and letters that identify its tagging location.
It's important to monitor the monarch's population and habits because many believe that the plight of the monarch is an indication of what's in store for other pollinators and winged wildlife, Rhonda says.
"What's affecting the monarch is affecting everything else in nature — the native bees, wasps, and birds," she says.
Three years ago, she tagged only 35 butterflies in August and September. Last year, she tagged more than 100 and hopes that comeback trend continues.
She loves telling visitors, young and old, about the butterflies' awe-inspiring two-way migration between North America and Mexico.
In the fall, the cold-blooded butterflies west of the Rocky Mountains fly to the California coast to winter among the firs and eucalyptus. Butterflies east of the Rockies fly up to 3,000 miles in masses to the same winter roosts in fir forests in Mexico.
Rhonda, too, has flown to Mexico to see the millions of monarchs that overwinter on the protected mountains. Some of the tiny creatures that she tagged in Galesburg have been recovered in Mexico.
"I sat in awe on a mountain for an hour watching the butterflies wake up hanging in the trees and going down to the water," Rhonda says about her trip in February. "The only thing you could hear was butterfly wings. It was like being in a cathedral in the middle of this natural world."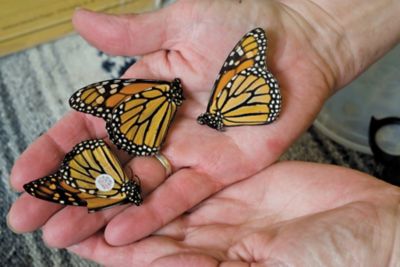 Come spring, monarchs return soon after native milkweed appears and begin breeding the next generation of butterflies.
"The big key is milkweed and nectar sources for all three seasons (no winter)," Rhonda says about boosting the monarch population. Pesticides and land development are two primary reasons for the loss of butterfly habitat.
With help from Ms. Mari Posa, Rhonda is driving home her message. And in her own back yard, she's seeing results.
"It's not unusual to walk into a grocery store and a man or woman with a young child will say, 'Oh, you're the Butterfly Lady. You're the reason we can't cut down the milkweed now.'"