Family restores ramshackle woodlands to their native glory
By J.F. Pirro
Photography by Steph Chambers
The 110-acre tract of land about 20 miles from downtown Pittsburgh once yielded abundant crops for Janet Sredy's great-grandfather. But after he died, the property began to deteriorate.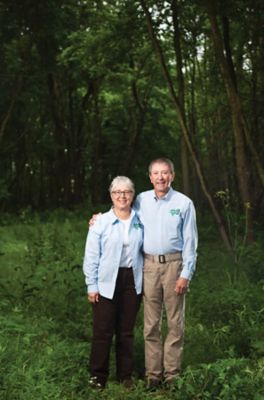 The homestead became fragmented with some parcels sold to non-family, contaminated by heavy air pollution, abandoned, and damaged by ATV- and motorcycle-riding trespassers.
By the 1980s, the once-pastoral property in Forward Township, Elizabeth, Pa., was in terrible shape.
Janet's family began to buy back the property and by 2007, Janet and her husband, Raul Chiesa, and her brother and his wife, Mark and Patty Sredy, acquired the last of it and consolidated ownership.
Janet and Raul met with a state forester to get ideas and create a forest management plan with the goal to restore the woodlands to its natural state. That required eradicating invasive plants, improving tree health, cultivating plants to feed wildlife, and improving wildlife habitat.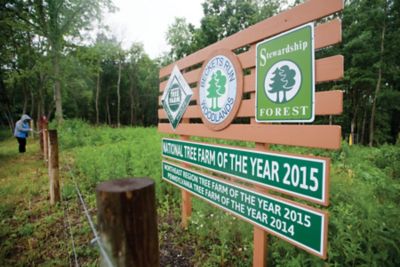 Today, the property, known as Beckets Run Woodlands, is thriving and beautiful once again.
Indeed, the restoration has been so successful that the family was named the 2015 American Tree Farm System (ATFS) National Tree Farmer of the Year, the nation's top award for sustainable forestry on private lands. That honor came after progressive citations as the 2015 Outstanding Tree Farmer of the Year in Pennsylvania, then the 2015 Regional (Northeast) Tree Farmer of the Year.
"It's been a major undertaking," Janet says. "Our story is very unusual. The typical (ATFS) winner is a big timber company up north, but everything we've heard is that what we've done in such a short amount of time is so impressive."
'Unsung Heroes'
Janet and Raul are helping to improve their neighbors' land, which was in the same deteriorating condition that theirs once was. They enrolled 600 acres of bordering properties into a Wildlife Habitat Improvement Program sponsored by the Pennsylvania Game Commission.
Working with a wildlife diversity biologist, they're now improving habitat for native wildlife and birds in more than one square mile of forest. Additionally, they manage recreational hunting on these lands.
Hunting is important to many Pennsylvanians and this co-op of managed lands not only has improved the scenic landscape, but it's also enhanced community perception for the need of good land stewardship.
"Family forest owners like Raul and Janet are some of the unsung heroes of our forests," says Robert Bonnie, Under Secretary for Natural Resources and Environment at the U.S. Department of Agriculture.
"Many don't realize that family forest owners are the largest ownership group of forests in the U.S.," he says. "What's more, the work they do on their land, is felt far beyond their properties — for wildlife habitat, clean water, recreation and more."