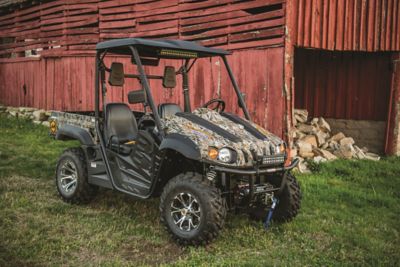 3 Popular UTV/ATV Accessories
An all-terrain vehicle (UTV or ATV) is a motorized off-road vehicle used for a variety of outdoor activities, including trail riding and jobs around the farm or acreage. UTVs and ATVs come in several different models, depending on the main purpose for the vehicle. Youth models are entry-level four wheelers primarily designed for use by children and teens. As a kid's first four-wheeler, youth models are all about safety and are designed with an engine kill feature that turns the unit off if the driver falls off the seat while the vehicle is in motion. A step up from a youth model in size and price is the recreational trail class of four-wheelers. These vehicles have an automatic transmission and are perfect for riders who enjoy a more leisurely pace. Utility quads are built for rugged terrain and big outdoor jobs like hauling cargo and plowing fields. These UTVs and ATVs have powerful engines that can move over rocks and steep hills with ease. Sport Utility UTVs and ATVs combine the speed necessary for racing with the utility capability of a quad. No matter the size or style of the UTV/ATV, these vehicles are a fun and fast way to travel through rugged terrain and get the job done. Accessories for UTV/ATVs can improve the functionality of your vehicle and make it an even better investment for all your outdoor activities.
Three-Way Hitch
One of the most popular accessories for UTV/ATVs is the three-way hitch. Three-way hitches give your UTV/ATV the ability to tow cargo to and from your deer stand, haul rocks away from your field and bring a supply of freshly cut firewood right to the back door. Three-way hitches turn your UTV/ATV into an extreme hauling machine capable of carrying equipment over the most rugged terrain. Three-way hitches are quick and easy to install to the rear of your UTV/ATV and are made of heavy-duty metal built to last.
Seat Protectors
No matter how much you pay for your UTV/ATV, the seats can become worn over time which means less comfort while riding. Purchasing a high-quality seat protector keeps your seat sturdy while adding comfort to the riding experience. Seat protectors are made with soft, molded foam to add extra cushion where you need it most and fit easily over your existing seat with just a few clicks of the buckles. Choose your seat protectors based on the make and model of your vehicle for a perfect fit.
Rack Bags and Front Racks
Most UTVsATVs come with rear racks for carrying gear. These rear racks are perfect for hauling cargo, but the amount of space can be limited and get wet or muddy if not properly covered. Buying a rack bag for your rear ATV rack increases the amount of storage available and protects what's inside from whatever the great outdoors dishes out. Rack bags attach easily to your rear rack with front, back and side panel straps and are made of heavy-duty materials such as polyester with PVC fabric backing, mesh and Velcro. And for additional carrying capacity, consider adding a front rack or basket to your UTV/ATV. Front racks fit across the front part of your vehicle and attach just above the wheels to provide extra storage without impeding your view.
Tractor Supply Co has more than 50 different accessories available to fully outfit your UTV/ATV. Whether you need racks for hauling and hitches for towing, or cab enclosures and camo wraps, let TSC be your UTV/ATV-accessory headquarters.