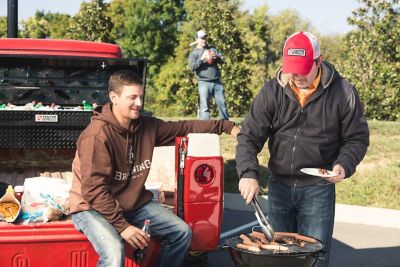 Tailgate: 5 Things for the Perfect Tailgate
Football season is around the corner, and that means tailgating! According to the American Tailgater's Association, the first tailgating party happened eight years before the first American football game and did not take place near a football field, but around another battlefield -- the first Battle of Bull Run in 1861. Civilians arrived in wagons with picnic supplies in tow ready to watch two teams battle it out in what they thought was a short skirmish to decide the fate of a nation. And yes, this very first tailgate party happened on a Sunday. Fast forward more than 150 years, and tailgating has become an American tradition uniquely tied to fall and football. Whether you're a tailgating pro or are new to the art of cooking and eating from the back of a truck, the following five items are essential for the perfect tailgate:
Cooler
When it comes to outdoor cooking, keep hot foods hot and cold foods cold to lessen the chances of foodborne illness. That means the right sizes and types of coolers are an essential part of a successful tailgate party. Have one large cooler just for ice, and two medium-sized coolers for foods that must be kept cold. Divided cooler organizers can make tailgate set up a breeze, while coolers with wheels and handles for pulling keep carrying heavy items to a minimum. Consider having one cooler or small refrigerator that can be plugged into a power source, such as an in-car outlet or portable generator for meat storage prior to cooking.
Portable Generator
Tailgate parties can be challenging without a ready power source. Portable generators solve that problem by bringing power to your tailgate without sacrificing space. Portable generators run on gasoline, and most can provide up to 10 hours of power per one gallon of fuel. Portable generators have multiple outlets for televisions, small refrigerators and cell phones. They also weigh about 50 pounds and can easily fit in a truck or the back of an SUV with plenty of room to spare.
One of the most important things to remember when using a portable generator is safety first. The American Red Cross recommends the following:
Keep the generator dry and do not use it in rain or wet conditions. Operate it on a dry surface under an open canopy-like structure, such as under a tarp that is held up on poles. Do not touch the generator with wet hands.
Turn the generator off and let it cool down before refueling. Gasoline spilled on hot engine parts could ignite.
Store fuel for the generator in an approved safety can. Use the type of fuel recommended in the instructions or on the label on the generator.
Plug appliances directly into the generator, or use a heavy duty, outdoor-rated extension cord that is rated (in watts or amps) at least equal to the sum of the connected appliance loads.
Remember, even a properly connected portable generator can become overloaded, resulting in overheating or generator failure. Be sure to read the instructions.
Stagger the operating times for various equipment to prevent overloads.
Never use a generator, grill, camp stove or other gasoline, propane, natural gas or charcoal-burning devices inside a home, garage, basement, crawlspace or any partially enclosed area.
Keep these devices outdoors so that they are away from any doors, windows and vents that could allow carbon monoxide to come indoors.
Although carbon monoxide can't be seen or smelled, it can rapidly lead to full incapacitation and death. Even if you cannot smell exhaust fumes, you may still be exposed to carbon monoxide. If you start to feel sick, dizzy or weak while using a generator, get to fresh air immediately.
Camp Stove
Having additional burners handy for your tailgate menu means more room on the grill for meat! Portable camp stoves use propane cylinders and are quick and easy to set up. Portable camp stoves typically have two burners and are perfect for heating baked beans and sauces or boiling water. Place them on table tops or directly on your truck's tailgate. Some models come equipped with telescoping legs, making a freestanding cooktop that can be adjusted to a comfortable cooking height. Purchase extra propane canisters to fuel cooking throughout your entire tailgate party.
Canopy
Fall tailgating weather can be tricky, so having portable canopies is important. Whether it's hot, cold, sunny or rainy, you and your sous-chef's and guests can cook and eat in comfort. Purchase one canopy for your cooking and serving area, and another for the eating area for a perfect place to eat and watch the game.
Portable Grill
Portable charcoal or gas grills are the mainstays of tailgate food preparation. Portable grills not only cook the meat, but can also be used for roasting vegetables, grilling fruit, heating tortillas and even baking bread. Use a heated pizza stone on your grill for a smooth cooking surface when needed, and wrap foods like salmon in parchment paper and aluminum foil for clean and easy packet cooking. Rest marinated skewers of meat and veggies directly on the grill for tasty kabobs or satay. No matter the menu, a portable grill can do the job. If cooking with charcoal, light the coals in a coffee can or chimney prior to placing them in a grill. Pour out the coals and distribute them evenly after those on top have turned gray or ashy, which usually takes about 15 minutes. For portable gas grills, be sure and have enough propane in your tank to last for the entire party.
When it comes to tailgating, Tractor Supply Co. has you covered. From coolers and canopies to portable gas grills and generators, TSC has what you need to get this tailgating season off to a great start.