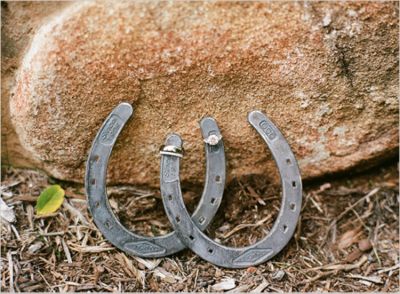 Rustic Weddings
If you're a lover of all things country and drawn to the simple beauty of farm life, then a rustic wedding might just be the ceremony of your dreams. Rustic outdoor weddings are becoming more and more popular, and that means lots of options when it comes to planning your special day. From saying your vows under a natural arbor to receptions with mason-jar lighting and wooden benches, Tractor Supply Co. has all the just-right touches for your perfect rustic wedding.
The Wedding Ceremony
Create a special place to give and receive your vows by decorating a wooden arbor with vines, slim branches and flowers. Turn wooden barrels upside down and use for flower holders on either side of the decorated arbor. Light your aisle by placing Mason jars by each chair or bench on either side of the aisle containing battery-operated tea lights and a few sprigs of baby's breath. Use burlap scattered with artificial rose petals as an aisle runner, and wooden benches with burlap and jute bows tied at each end for ceremony seating. Place an inverted wooden barrel on one side of the ceremony entrance and decorate with a rustic chalkboard with the bride and groom's names. Add a second inverted barrel opposite and decorate with a galvanized bucket filled with wedding programs, the guest book and packets of birdseed made from burlap and ribbon to throw at the couple as they leave the reception. An acoustic guitar near the front of the ceremony area provides simple but beautiful music for your rustic ceremony.
A Rustic Reception
Create seating areas around the reception area with hay bales covered in printed sheets, calico fabric or patchwork quilts. Galvanized tubs filled with ice make the perfect beverage holders, and inverted wooden barrels with plywood across the top creates a welcoming rustic bar for serving cocktails and other adult beverages. Use metal watering cans to hold flowers, smaller mason jars with tea lights and a horseshoe to create glowing centerpieces at reception tables. Strings of fairy lights in the trees around the reception area give your reception a soft romantic feeling. A large piece of plywood laid on the grass at one end of the reception area surrounded by more hay bale seating areas creates the perfect dance floor.
Find a gently-used farmhouse table or wooden picnic tables for the wedding buffet. Small galvanized buckets make fun candy holders, silverware containers, and sugar packet and toothpick holders. Large mason jar drink dispensers on upturned galvanized buckets filled with fruit water are the perfect rustic touch to keep thirsty guests satisfied throughout the evening. And don't forget the bluegrass band, complete with fiddle, banjo and string bass to provide lively dance music after dinner.
Country Apparel
No rustic wedding would be complete without a dash of country apparel. Bridesmaids in flowing skirts that swing on the dance floor and show off cowboy boots alongside a bride in a flowing gown with lace embellishments and floral head piece sets the tone. Groomsmen attired in clean jeans, western shirts and cowboy boots provide a rugged balance to the simple beauty of the bridal gown and bridesmaids dresses. A flower girl in a flowing dress, floral head wreath and ring bearer in jeans, boots and a cowboy hat complete the rustic picture. Tractor Supply Co has a full line of cowboy boots, jeans, cowboy hats and western shirts for everyone in the party, including the bride and groom.