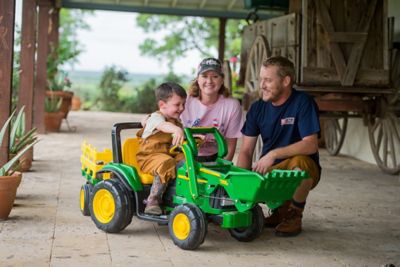 3 Popular Types of Ride-On Toys
No matter what's on your child's gift-giving list for holidays or birthdays, ride-on toys are always a hit. From preschool to big kid, ride-on-toys offer something for every taste and budget and are perfect for active kids who enjoy creative play. Ride-on toys come in three basic types: rocking, pedal-powered and battery operated. Each one can provide hours of fun for the toddlers, preschoolers or early-elementary children in your life.
1. Rocking Toys
Rocking toys have come a long way from the simple rocking horses of days gone by. Today's popular rocking toys include everything from fuzzy giraffes and unicorns to ladybugs and caterpillars. And even most rocking horses have an updated look with plush fabrics, vinyl saddles and even comfy seats and seatbelts for the smallest riders.
2. Pedal Powered
Pedal-powered toys come in all shapes and sizes and offer kids that are ready to ride under the power of their own legs hours of fun and healthy activity. Although nothing beats a traditional tricycle for a preschooler's pedal experience, little ones also enjoy things like pedal tractors and pedal carts. Pedal carts and tractors make little ones feel big and fast and provide lots of opportunity for imaginative play. And don't forget a preschooler's very first two-wheeler! The smallest two-wheelers are just 12 inches and come complete with training wheels for stabilization.
3. Battery Powered
Battery powered ride-on's make little ones feel grown up as they drive around the backyard or down the sidewalk. Trucks, trains, motorcycles, tractors and cars are all options when it comes to choosing the perfect battery-powered ride on for the child in your life. Most of these miniature vehicles are powered by a 12-volt battery and feature adjustable seats, working headlights, accelerator pedals and power steering. Some models even come with parental controls to set speed limits so beginning drivers can feel comfortable and confident while being safe.
Ride-On Toy Safety
As with all toy purchases, it's important to remember "safety first" when choosing ride-on toys. Always use the recommended age and weight limits found on labels, especially for ride-on toys that are battery operated. Make sure that all plush parts of ride-on toys are fire resistant, and that no toy has small parts or hanging strings or belts that could be a choking hazard. Helmets are a must for ride-on toys that are battery operated and for all bicycles and tricycles. And remember to check for proper helmet sizing as your child grows.
When it comes to ride-on toys, Tractor Supply Co. has your kids covered. From rocking toys and pedal-powered carts to bicycles and battery-powered options, TSC is your one-stop toy shop for every occasion.