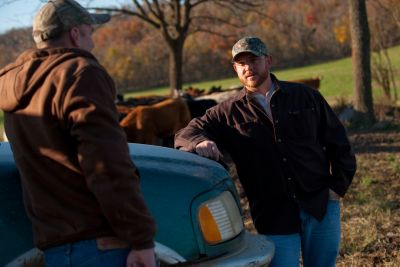 Outerwear Considerations: Choosing the Right Winter Coat
Having the right outerwear means getting to enjoy plenty of outdoor fun during winter's coldest months. Winter gear should be not only warm but waterproof, and having room to layer underneath means you're ready for all types of weather. The warmth of the insulation, level of waterproofing and quality of construction are all things to consider. But choosing the right coat, overall bibs, gloves, boots and head coverings also requires knowing where you plan to go and for what activities. Coats for farming have different requirements than those for daily wear or dressy winter occasions. The following tips can help you choose:
1. Type of insulation.
When it comes to finding the warmest winter coat, look for one of four types of insulation: down, wool, fleece or synthetic (Thinsulate or PrimaLoft). Goose down remains the warmest type of insulation available, although some synthetic materials are finally getting close to nature's answer for staying warm. If you choose down, look for coats with a fill power of 550 or higher. The loftier the down, the more insulation, so the higher the fill number the better for optimum warmth.
2. Quality construction.
Coats with fill oozing out of the seams, pockets that aren't reinforced, stitches that stick out or gaps in seams signal shoddy construction and won't last through more than one season. Fabrics that tear easily, that have a high polyester content or are mostly acrylic won't keep you as warm as natural fibers like wool.
3. Room for layers.
No matter the weight and style of your coat, dressing in layers underneath always keeps you warmer. Coats often have plenty of room from shoulder to hem but lack any extra room in the sleeve for additional layers. This makes for an uncomfortable fit for most people, especially if the coat is being used for outdoor activities such as skiing and sledding. Your coat should fit properly at the shoulders while providing enough room to accommodate sweaters and sweatshirts without feeling constricted.
4. Waterproof and wind resistant.
The outer shell of a coat, ski bibs or vests should be waterproof and wind resistant to provide maximum warmth and protection. This is especially true if the coat is for outdoor activities and not just daily wear. Dressier wool coats are not completely waterproof, but wool naturally repels water so you'll stay dry when getting in and out of the car or going from home to work.
5. Length.
Although short coats may seem more versatile and stylish, when you're going for warmth, longer is better. The more of you that's covered by a coat, the toastier you'll feel during cold winter days. And beware of trendy coats that offer new styles each year. It may look cute on, but if it can't stand up to January temperatures, leave it on the rack
6. Hoods.
Even though you may not wear it all the time, a coat with a hood is always a good idea. Look for insulated, fur-lined or fleece-lined hoods that have a Velcro or string closure to keep them in place. Most of your body heat is lost through your head, so having it covered as much as possible will keep you warmer.
7. Extras.
Any extras, like reinforced and lined pockets, fur ruffs or knit cuffs, wind flaps over zippers and collars that snap or zip up to the chin help keep warmth in and cold out.
8. Three-in-one designs.
Three-in-one coats have zip-out mid-layers that give you three wearing options: mid-layer only, the outer layer only, or both layers together. For days when just one lightweight layer is needed to keep warm, the mid-layer alone is the perfect option. When waterproofing, wind resistance and extra warmth is necessary, the two layers together make the best coat. And when windy and wet days at the beginning and end of the winter are the norm, the single outer layer gives all the protection you need.
9. Hats and gloves.
Choosing the right gloves or mittens depends largely on the activity. Mittens tend to be warmer for things like snowboarding and hiking. For activities where more dexterity is needed, choose gloves. All hand wear should be waterproof and down or synthetic filled for optimum warmth. Fleece beanies and knit bobble hats are great for keeping heads and ears warm and protected. Hats with ear flaps offer extra coverage, and headbands keep ears warm without contributing to hat hair.
10. Ski bibs and snow pants.
Properly fitting ski bibs and snow pants should provide plenty of coverage without being restrictive. A waterproof shell is important to keep you dry while on the slopes or in the deer blind. Remember that water can seep in through stitch gaps, so finding pants that have covered seams is important. Choose insulated ski bibs and snow pants for snowmobiling and hunting and lighter weight shell ski pants, leggings or tights for cross-country and downhill skiing.
No matter the winter activity, Tractor Supply has your outerwear needs covered. Work jackets, winter vests and coats, hunting gear and camouflage for men and women are just a few of the many choices available.