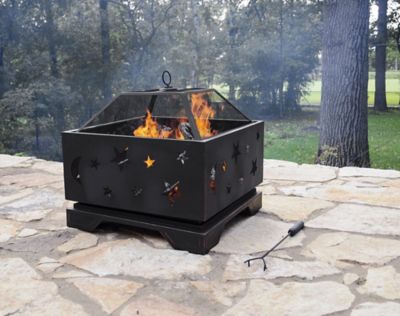 Outdoor Fire Pits
When the weather turns warmer, there's nothing quite like sitting around an open fire, roasting marshmallows, singing camp songs and telling stories. And since fire pits come in all shapes and sizes, you don't have to wait for a trip to the cabin to hang out around the campfire. Choosing the right fire pit for your backyard takes knowing the kind of experience you want and where. The following tips can help take the guesswork out of finding an outdoor fire pit.
Location
Part of a fire pit's design comes from where it will be located. Small, gas-fueled fire pits with surrounding tables are perfect for small decks or porches and can be an attractive addition to your deck decor. For larger decks that double as outdoor dining and cooking areas in the summer, gas fireplaces made of stone or brick help create seating areas that are cozy. And if you're looking for that campsite or lakeside feel in your own backyard, consider a cast iron, metal or stone wood burning fire pit with a screen. When it's time to leave the comfort of your own backyard for summer camping, take along a 3-foot, galvanized metal fire ring for safety and extended burning time at your campsite.
Fuel
Once you know the location of your fire pit, it's time to think about fuel. If you have easy access to wood that's not too expensive, freestanding cast iron, galvanized steel or stone fireplaces/pits are the perfect option. But if starting and feeding a fire and cleaning up ashes seem like too much work, consider a gas or propane model. Gas fireplaces can be connected to an existing gas line and turned on with the push of a button or flip of a switch. For fire pits with mantle surrounds or those designed for patio or deck use, propane makes getting up and running quick and easy. Most propane patio fire pits come with space to hide the propane tank for a clean and classy look.
Safety
No matter the fuel source, when it comes to open flames, safety is the top priority. No matter the design, a wood burning fire pit should be at least 10 feet away from any combustible surface or structure. Gas/propane fire pits do not carry the same risk for blowing embers or hot ashes, so if the patio is your location, this is your only option. Before lighting a fire in your fire pit, check the weather forecast for windy conditions. Even moderately windy days can carry hot embers. Pay attention to local burn bans during dry periods in the hottest months. And never pour hot ashes into a compost heap or trash bin. Even slightly warm ashes can ignite combustible materials. Use care when dousing flames or ashes with water, as hot steam can be dangerous. Never leave children unattended around a fire pit and make sure to remove all loose or dangling clothing before roasting marshmallows or hot dogs.
Fire pits can be a great place to gather your family for a pleasant conversation on a cool summer evening. Choosing the right fireplace/pit for your location and playing it safe around any open flame will keep your loved ones and friends coming back again and again. Tractor Supply Co has a complete line of fire pit options for your perfect backyard, patio or camping set-up. From fireplaces and lava glass bowls to fire pits and rings, Tractor Supply Co is the home for your perfect fire.