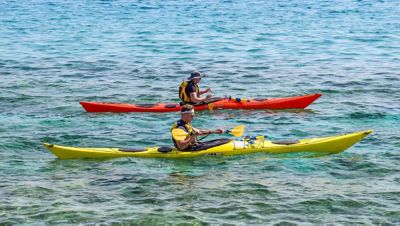 Three Specialty Kayaks
Kayaking is a fun and inexpensive way to get out on the water. These sturdy and easily transported watercraft are also a great source of upper-body exercise. Kayaks can go just about anywhere a boat can, and require no fuel other than arms and paddles. Although all kayaks may look the same to a novice, specialty kayaks are designed with specific purposes in mind. A paddler's experience level and size, water type, sit-on or sit-in design, as well as stability and maneuverability, are all things to consider when buying a specialty kayak. Choosing the right kayak means your outdoor adventure will be the best it can be. From extra storage for fishing gear to a hull design that can take on the worst whitewater rapids can give out, these three designs can help you get more out of what you go kayaking for.
Fishing Kayaks
Although any kayak can be used for fishing depending on where you're going and for how long, kayaks designed with the fisherman in mind are more comfortable and practical. Fishing kayaks have more storage than ordinary kayaks, with plenty of room for tackle, bait and coolers for the fish you catch and the drinks and snacks you'll need throughout the day. Most fishermen prefer a sit-on-top design over a sit-in kayak for a few obvious reasons. Sit-on-top kayaks can roll over without filling up with water, which makes them safer, especially for ocean fishing. Sit-on-top kayaks are bigger and give the fisherman more room to move while staying stable. Some fishing kayaks also come with pedals as opposed to paddles to free up the hands of the fisherman while still being able to move the boat forward. Other things to consider when choosing a fishing kayak are the length of the boat, as longer kayaks are faster kayaks. The width of the boat is also important since anglers like to stand as well as sit for fishing, and wider kayaks are more stable. Fishing kayaks also keep the comfort of the angler in mind and offer lawn-chair-style seats with more back support.
Touring Kayaks
Touring kayaks, also known as sea kayaks, are primarily designed for paddling on open water, including lakes, bays, inlets and the ocean. Touring kayaks are typically smaller than other boats with both a covered deck and a spray deck. Touring kayaks are faster than whitewater kayaks but are less maneuverable given their purpose and where you use them. Touring kayaks offer more comfort, with a variety of seating options, since paddlers who use them are often kayaking for days at a time. They also have more storage space for clothing, food, supplies, camping gear and fishing tackle. Touring kayaks are also made for more than one person, sometimes having room for up to three paddlers. Touring kayaks are the closest in design to the early kayaks used by Native Americans, Alaska Natives and other indigenous peoples of Canada and Greenland, since early boats were used primarily for transport and fishing. Touring kayaks come in hard-shell designs made of fiberglass, carbon or plastic or in foldable options covered in synthetic, waterproof fabric. Touring kayaks can be either a sit-on-top design or sit-in, depending on your preference and experience.
Whitewater Kayaks
Whitewater kayaks come in four different types: play boats, river runners, creekers and long boats. Play boats are the shortest type of whitewater kayak and allow the paddler to surf waves and do surface tricks. These boats are typically six feet long and have a stubby hull and a flat bottom. This design makes it easier for the paddler to push the ends of the boat underwater for tricks like pop-ups. The flat bottom in these boats helps keep the paddler stable while in the waves.
River runners are just what their name implies: a boat that allows paddlers to go fast in a variety of different rivers. In design, these boats are a cross between a play boat and a creeker and offer great stability. River runners are generally longer than other types of kayaks and have the ability to resurface quickly, making them a great option for beginners.
Long boats truly live up to their name. At over 12 feet in length, these boats are really extra long river runners and are perfect for multi-day kayaking and racing. Long boats are extra fast down the river and offer excellent maneuverability, which means they're also good creekers and multi-day boats.
Creekers are the largest kind of whitewater kayak and do well over big rapids and waterfalls. They maneuver well in tight places and around hazards and have a quick turn radius and a water-displacing design. Creekers have less stability than other boats because of their rounded bottom. This does make it the perfect boat for well-seasoned whitewater kayakers who plan to take on substantial drops and big water. Because of their generous size and storage capacity, creekers are also a great option for overnight camping/kayaking trips.
Tractor Supply Co. has different styles of kayaks available. From deluxe fishing models to inflatable two-person boats, as well as paddle and other accessories, Tractor Supply Co. has the right kayak for your taste, experience level and budget.