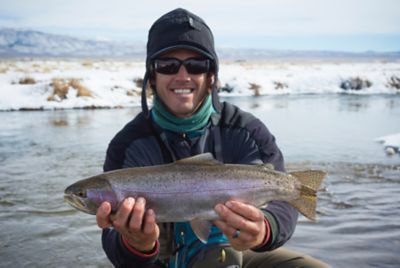 Winter is the perfect time to catch big fish that haven't seen a bait in months.
Cold Weather Fishing
By Brian Bruzewski
Winter fishing is good for more than catching fish. It's an excellent excuse to get out of the house and breathe some crisp, fresh air.
Fishing is also remarkably meditative. It helps you clear your head of everything else, and the sparkling quiet of a winter's day, with the whole lake to yourself, makes it even more serene.
The only thing that makes it better? Catching fish. These tips will help to reel them in:
Where to Go
Think like a fish — Cold temperatures slow metabolism. Fish eat less often and their diet is mostly baitfish. Other natural food sources such as crawfish are in hibernation. Fish school in deep water and won't move far to chase food. They prefer to move up and down. Steep bluffs and channel ledges are better than long tapering points.
Small lakes and ponds — They warm and cool faster and often have a levee or dam with deep water and a rock bank. Rocks hold heat and can warm the water by a couple degrees compared to the rest of the lake. Find the warmest spot on the lake and start there. Your best bet is the north bank. Frigid north winds pound the south bank all winter long. If you don't have a temperature gauge, an inexpensive floating thermometer is a good investment.
Small rivers — Target deep pools where the current seems to almost stop. You're looking for an area that looks like a small lake in the river. It may have steep banks or rock bluffs. If there are shallow structure areas such as humps or boulders, they'll warm in the midday sun and attract fish who move up to feed.
Feeder springs and power plants — Springs and power plants both discharge warm water into rivers all through the winter. Baitfish that normally die when the water reaches the low 40s will crowd into the warmer current, even miles downstream, to survive. Larger fish such as bass, stripers, and catfish will follow the bait, making for some exciting fishing even in the snow.
When to Go
Sleep in — Get out at mid-morning after the sun has been out for a few hours warming surface temperatures. Watch the weather and try to fish before a cold front hits or after a couple of warm days in a row.
What to Throw
Live bait is best — If you want more flash, take a tip from sauger and crappie fishermen and tip your jigs with minnows.
Artificial baits should look natural — Baits with hair or feathers move better in cold water. Plastic stiffens up. That's why bass fishermen typically use pork trailers when jigging in water below 50 degrees. Small simple grubs, tubes, straight finesse worms, and spoons all imitate dying baitfish and will attract multiple species of fish for added excitement.
Small crankbaits — Choose flat baits with a tight wobble. Suspending jerk baits, or baits that resemble small fish, are also good because they have erratic action, stay in the strike zone longer, and imitate baitfish.
Shad colors — Especially in clear cold water, silver, white, and gold are good colors to imitate winter baitfish. Transparent baits with flakes also are effective.
Go slowly — Fish as slowly as you can. Now cut that in half. Winter fish are sleepy. A repeated, vertical lift-and-drop presentation is often the most effective. Don't be afraid to let your bait sit completely still. Long pauses keep your bait in front of the fish longer and make it look more natural.
Be sensitive with your gear — Using a sensitive rod with light line is best for detecting soft winter bites. Ice is tough on your line too. A line conditioner will repel water and help minimize icing in your line guides.
Safety First
Dress appropriately — Layer and protect your extremities. It's better to overdress and remove unwanted layers.
Remember to move — Periodically take breaks and walk around. Swing your legs to get your blood flowing and warm up your feet. This is also a good time to think about what the fish have been telling you. Maybe it's time to change your tactics or move to a new area.
Stay hydrated — It's easy to become dehydrated breathing cold air. Be alert to signs of hypothermia. Uncontrollable shivering, disorientation, or tingling and can all be warning signs of hypothermia.
Bring a buddy and a dry bag — Winter fishing can be fun, but it's also dangerous. Having a buddy with you is good for passing the time, and could even save your life. An emergency dry bag is an essential safety item too. Keep your fire starters, extra clothes, a small survival kit, and your cell phone inside. Let someone know where you're going and when you'll return.
It's an Adventure
Winter is the perfect time to catch big fish that haven't seen a bait in months, and it might be your best chance at a new state record. Your friends may think you're crazy for battling the elements, but they're the ones missing out.