Impressive deer antlers require the right nutrition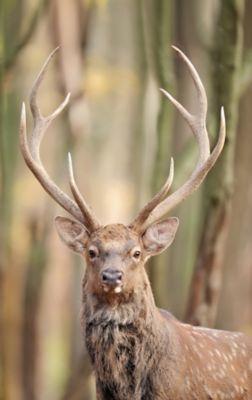 Crucial minerals necessary for antler growth are calcium and phosphorus.
Most hunters would like to bag big bucks with bragging-size antlers every year, but anymore, there simply aren't enough big bucks to go around.
Indeed, whitetail deer populations consist of far more young bucks than mature bucks and most bucks harvested across North America are yearlings or 1½-year-olds with their first set of antlers.
Many young bucks grow nothing more than spikes while others grow full-fledged racks — some with eight or more points that would be considered trophy antlers by hunters.
The reasons for these variations in antler development? Nutrition and genetics, with the main accent on nutrition.
Biogeochemist Bob Jones, formerly at the University of Illinois, conducted extensive research of salt licks used by big game animals. His study contributes to our understanding of antler growth. "There are three substances that play an important role in rapid, massive antler development," Jones says. "They are calcium, phosphorus, and sodium."
Research conducted at Pennsylvania State College of Agriculture concurred, by saying the crucial minerals necessary for antler growth are calcium and phosphorus. When those two minerals were added to the diets of penned deer, the animals developed much larger antlers than other test deer on restricted diets.
During antler growth, a young buck's antlers receive a good part of their calcium and phosphorus from a biological process called mobilization, according to the Mississippi State Deer Lab.
During mobilization, calcium and phosphorus are "mobilized" and transferred from the buck's skeletal sites, such as rib bones, and used to produce antlers. The skeletal sites in the buck's body from where calcium and phosphorous were transferred are later replenished through his diet.
Wild animals seek out salt, just as humans do. Because sodium is not available in plant material that wildlife graze, deer and other wildlife will actively seek sources of sodium.
Early explorers in Africa, Asia, and North America recorded observations of grazing animals traveling to salt springs or deposits to satisfy salt cravings. Early nomads and hunters took advantage of this fact to lure and capture animals by locating areas with salt and waiting for animals to come there.
Because animals have a much greater appetite for natural foods containing sodium and chloride, mineralized salt blocks that contain calcium and phosphorous are a convenient way to supplement the diet of wild deer on your property to grow those racks larger.
Mineralized salt blocks not only supplement to the natural diet of wild deer, but they also can be used as a management tool. For example, they can be placed in specific areas to lure deer away from crops, gardens, roadways, and other locations where you don't want them to go.
And because all kinds of animals crave salt, mineralized salt blocks can attract all types of wildlife, from birds and squirrels to rabbits, raccoons, and deer.
Be aware that some states consider salt and mineral blocks to be bait and are illegal for hunting. If you hunt on the property where you plan to place mineralized salt blocks, check the laws in your area.