Archery Tradition Provides Family Fun
By Noble Sprayberry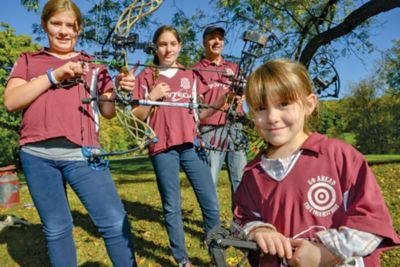 Bows and arrows are part of the daily routine for each of Ron Sauer's three daughters as they grow up carrying on a unique family tradition.
And while Sauer's girls — Hannah, 13, Rachel, 11, and Leah, 4 — do hunt and compete, often earning trophies, he believes the lessons taught by archery go far beyond the ability to fling a shaft toward a bull's-eye.
"You can't be nervous or angry. You can't have a raised heartbeat. You have to be in control," says Sauer. "How much better would we all be if we could objectively control the situation we are in? In archery, to execute a shot, that's the state of mind you have to be in."
The thread that drew his children into the sport stretches back to Sauer's pre-teen years. He worked on his family's dairy farm, including the milk plant where one employee was an archer. One day, Sauer took the offer to watch the man shoot, and seeing those first few arrows fly started a love of the sport.
He saw how quickly archery could engage an entire family — it was contagious. Sauer started practicing, and he was joined by his father, mother, and sister.
"We kind of went off the deep end and we were all shooting every weekend," he says. "It was the center of our family's life for five or six years."
Sauer, however, eventually lost interest. Then, work, marriage, and three daughters took his focus.
But five years ago, he was joking and bragging to his daughters about his archery prowess.
"I was telling my kids how great I could shoot back in the day, and they told me I should show them if I was really so great," he says. "So, I went to an archery show with a 20-year-old bow, and I won the competition. That sparked an interest in them, just like it did in me."
And once again, a family was hooked by the sport. They practice at their home outside Woodstock, N.Y., where the Catskill Mountains provide a scenic backdrop.
They also hunt and compete. Indeed, both Hannah and Rachel have had success, winning state and national honors. Hannah, though, finds pleasures in archery that go beyond competition. As her father did when he was about her age, she sees the sport as a way for the family to bond.
"I'm really not very competitive. I just go and make friends and have fun and just try to do my best," she says. "And I like that you can spend time with friends and family."
Sauer echoes his daughter's thoughts.
"Archery is a connection point and that's an important thing in our family," Sauer says. "If you play a sport like soccer, your dad will eventually get too old to play. But he won't get too old to stand there, pull a bow back, and fling an arrow down to a target and then hold hands with you when you go to get the arrow."
In the fall, Sauer and the girls practice in the back yard, honing the skills needed for winter hunting. Then, indoor competitions begin, followed later by 3D shoots in which targets resemble animals.
Success relies on a state of mind.
"You have to be very calm and at peace," Sauer says. "If you learn that through archery, you can do that in life, because archery teaches some of the best attributes a human can have."