Top 5 Questions About Heartworms In Dogs & Cats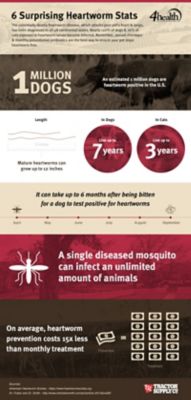 Heartworms can impact our pets' lives any time of the year, especially during the long, hot days of summer when mosquitoes are most active. Although heartworms in dogs are more common, cats can also be infected. Keeping your four-legged family members protected can get overwhelming, so we compiled a list of the most commonly asked questions.
What exactly is heartworm disease?
Heartworm disease is an infection that affects pets across the world. Larvae that live in the heart, lungs and blood vessels of infected pets are the root of this potentially deadly disease. If left untreated, worms can grow up to a foot in length and cause lasting damage to the heart, lungs, and arteries.
How might my pets become infected by heartworms?
Contrary to popular opinion, heartworms do not transfer from pet to pet. Pets can only contract the disease after being bitten by an infected mosquito. When an infected mosquito bites an animal, it leaves larvae behind in the wound. It can take up to 6 months following the bite for larvae to mature and develop into worms. Wolves, coyotes, foxes and raccoons have all been found to carry the disease, in addition to domestic pets. While dogs and cats in rural areas are more susceptible to heartworm disease than those in urban areas due to the prevalence of mosquitoes, pet owners in all parts of the country should consider heartworm prevention.
What are some of the most common symptoms of heartworm disease?
Heartworms are often hard to identify without testing, because in the earliest stages of the disease many dogs and cats show few or no symptoms. However, as the infection persists, symptoms are more likely to develop. Some of the earliest symptoms of heartworms in dogs are:
mild but persistent cough
fatigue and/or reluctance to exercise
decreased appetite
weight loss.
As the disease worsens, dogs can experience laborious breathing and swelling in the chest and belly.
Symptoms in cats are harder to identify but can include:
coughing and/or asthma-like attacks
loss of appetite
Vomiting
weight loss.
In later stages, cats may have difficulty walking, experience fainting, or appear to have a swollen chest and belly.
How do I prevent my pets from getting this disease?
Some pet owners may groan at the thought of adding yet another expense to their pet's monthly regimen, but heartworm treatment can cost up to 15X more than prevention tactics. The best bet for keeping your pets heartworm-free is monthly preventative care – usually in the form of an oral antibiotic or flavored chew. In addition to the monthly preventative dose, your pet will also need to undergo annual testing. This can be accomplished easily during a routine checkup.
My pet is heartworm positive, now what?
If you find out your pet is heartworm positive, don't panic. Most infected dogs can be successfully treated with the guidance of a veterinarian. Expect your veterinarian to recommend a multi-step plan of action to ensure your pet's health and safety.
Diagnosis confirmation: In order to make sure heartworm treatment is necessary, your veterinarian will confirm his or her diagnosis with a secondary test. Getting confirmation will give both you and your vet confidence to move forward with treatment.
Physical activity restriction: Following diagnosis confirmation, restricting your pet's activity is a common next step. This allows your pet to recover and process any remaining worms.
Stabilization: Depending on the severity of the infection, restriction of physical activity may not be enough to stabilize the disease. Heartworm treatment only kills adult worms, so your veterinarian may recommend your dog begins taking a monthly preventative dose. Additionally, in serious cases, your dog could be prescribed antibiotics or steroids to prepare them for treatment. Stabilizing the disease can often be the most lengthy part of the treatment process. Be patient knowing your veterinarian has your pal's best interest in mind.
Treatment: Once the disease has been stabilized, you will move forward to treatment. This process will involve several vet-recommended steps – including drug therapy – and will vary based on the severity of the disease. Don't be surprised if your veterinarian recommends leaving your dog in the hospital for observation. It's only to ensure there are no negative reactions to the treatment.
Retest: To be sure your dog has beat the disease, approximately 6 months after the final treatment, you should take your pet in for testing. If this test comes back negative, you will begin to administer monthly prevention and have your dog tested again each year thereafter.
Although cats are not an ideal host for heartworms, they can still contract the disease. Unfortunately, there is no approved drug therapy for cats, making treatment highly specialized to each specific case. Seek out a trained professional if you believe your cat has heartworm, and know that preventative care is the only true means of protecting your feline friends.
Now that you know the ins and outs of heartworm disease in dogs and cats, be sure to share the knowledge and stay on top of preventative care year-round. For prevention and testing, locate the nearest PetVet Clinic or contact a local veterinarian's office.