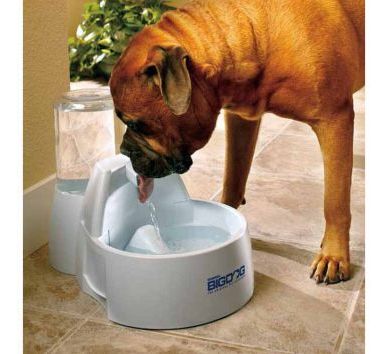 Smart Pet Bowls
Pets, like people, enjoy a comfortable place to eat their favorite foods. When mealtime comes around, having a pet bowl that provides the right amount of food in the right position can aid digestion and give your pet's tired joints a break. Smart pet bowls take the guesswork out of feeding your pet by helping you measure food properly or free feed throughout the day. Smart water bowls keep pet water cool and fresh without multiple trips to the faucet. No matter the size of your furry friend, smart pet bowls are a great way to keep your four-legged family members happy and healthy.
Elevated Food Bowls
For many dogs, the position of their food makes mealtime painful and after meal time uncomfortable. Larger dogs with sensitive digestive systems need food in elevated bowls to relieve indigestion, bloat or the symptoms of reflux. Elevated feeders also relieve the joint pain often associated with feeling from the floor. Elevated food bowls raise the food from the floor. This allows dogs and cats to eat with their necks at a more natural height, removing the need for bending at the shoulder or spreading the paws too far.
Free Feed Bowls
Pets that suffer from digestive issues are often more comfortable with several smaller meals throughout the day. Free feeding bowls allow pets to eat smaller meals whenever they are hungry rather than taking in too much kibble at one time. Some feeding bowls are attached to a food reservoir that lets the bowl refill itself as kibble is removed. Other pet bowl manufacturers feature products that store up to a 50 lb. bag of dog food with a free feeding port at the bottom. These types of feeders are also great for pet parents who need to feed their dogs or cats before work, even if the animal isn't quite ready for breakfast.
Cooling Water Bowls
There's nothing better to a dog or cat than a fresh and cold drink of water. Water bowls with cooling capacity or the ability to refresh the water throughout the day gives Rover or Kitty a fresh drink any time they need one. Some cooling bowls can be frozen overnight and keep water cold for up to 15 hours. Some outdoor water bowls that refill each time your pet takes a drink, and some offer water bowls with reservoirs that provide fresh, filtered water with each visit to the bowl.