'Rescue Your Rescue' contest winners use prize money to nurture needy animals
By Carol Davis
Photography by Mark Mosrie
Imagine Pet Rescue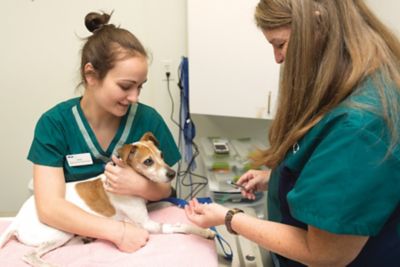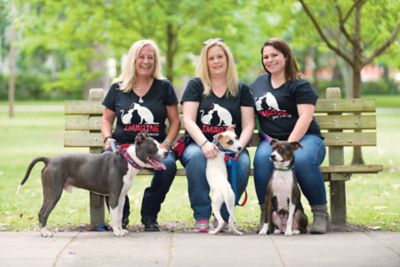 When Jake the homeless dog had been hit by a car, mangling all four legs, Cindy McManus and her colleagues at Imagine Pet Rescue never considered having him euthanized.
Jake had one leg amputated because of damage, but he was tenderly cared for and allowed to heal from his massive injuries. Some six months later and more than $5,000 in veterinary bills, Jake was adopted into his forever home.
Like Jake, most of the dogs taken in and eventually placed into homes by Imagine Pet Rescue have some kind of medical issue: some have Parvo, a highly contagious viral illness that is deadly to dogs or heartworms; some need medical help, such as a Rottweiler who needed surgery on both eyes; others have been abused or neglected; and others are senior dogs whose owners have relinquished them because they can't, or won't, pay for increasing veterinary care.
"We focus on the medically needy dogs — those with heartworm or major medical issues," Cindy says. "Those are usually the first to go (to euthanasia) because shelters don't have the money to fix them."
Indeed, Imagine Pet Rescue's trademark is, "Dedicated to rescuing the sick, injured, overlooked & forgotten." The group's name is from the John Lennon's song of peace and unity — Imagine — which was Cindy's father's favorite song.
Such commitment netted Imagine Pet Rescue first place in Tractor Supply's third annual Rescue your Rescue contest, in which customers were asked to nominate their favorite animal rescue organization for a chance at winning part of $25,000 in prize money.
The 1,100 nominations were whittled down to 10 finalists and opened up for online voting. Some 70,000 votes later, Imagine Pet Rescue emerged the winner, with slightly over 17,000 votes, netting it the top prize of $10,000.
Meals on Wheels for Helena-West Helena Dogs, a rescue in Helena, Ark., took second place, winning $5,000. And the Asheville Humane Society in Asheville, N.C., won third place and $3,500.
The remaining seven rescues divided the remaining $6,500.
Imagine's winnings went toward veterinary bills, Cindy says.
"We spent $174,000 last year alone on vets," she says.
That's because what some might call impossible medical cases are not turned away by Imagine.
"If there's a glimmer of hope, we'll take them in," she says, adding that they rarely euthanize. "We don't save them to kill them."
Thanks to Imagine, nearly 1,100 dogs have been healed and placed in loving homes in the past two years.
Long Reach
The mailing address for Imagine Pet Rescue may read, "Savannah, Ga.," because that's where Cindy, as founder, lives, but its reach extends throughout the United States and around the world where there is great need.
"There are no borders for us," she says.
Most of Imagine's foster homes are throughout the East Coast, particularly because the pet rescue was founded in New York, where Cindy once lived. But because the rescue is Facebook-based, Cindy and Imagine volunteers are connected with other rescue organizations around the world.
"I'll have rescue liaisons send me a message about a dog from their shelters around the country," she says. For example, one rescue worker in her network told Cindy about a Rottweiler in Miami who needed surgery on both eyes.
Imagine received the dog and paid for the surgery before placing it in a foster home and, eventually, with its own forever family.
Placing a dog in the right home is serious business, with the goal being to ensure that a particular animal and its foster or permanent home makes a good match.
Before a dog is placed, Imagine volunteers make a home visit to consider such things as: available space; whether a family has children and how active they are; whether they are willing to take care of the animal's veterinary needs; whether the dog's temperament and energy level matches the family's; and how much time they can spend with the pet.
Marissa Mongelli was sold on Imagine Pet Rescue after her family fostered a dog that was perfectly matched to them.
After careful selection, Cindy paired Marissa's family with Dylan, a pit bull who once had been minutes away from euthanasia by Brooklyn, N.Y., animal control.
"Dylan was a great match, because Cindy took the time to get a dog for us that would be a success in our home," says Marissa, who was so impressed by Imagine that she became director of the rescue's social media and public relations.
Like humans, each dog has its own personality, which is compounded by past experiences, such as having to live on the streets, being subject to abuse or neglect, or suffering illness.
"Every dog will have a couple of issues when they get out of a shelter," Marissa says.
But Imagine, with its large network of fosters and volunteers, helps each animal overcome its issues so that it can settle nicely into a forever home.
"We never want to set a dog up for failure; that's the most important thing," she says. "We're all they have."
Meals on Wheels for Helena-West Helena Dogs: 'One healthy and happy dog at a time'
Photography courtesy of Leslie Galloway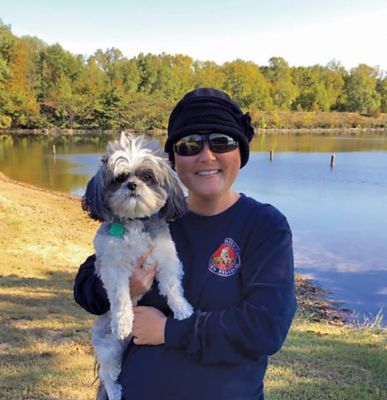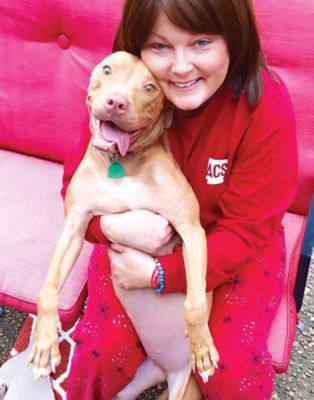 Saving dogs is so important to Leslie Galloway that she barely slowed her rescue efforts as she battled cancer and worked her full-time job. Despite the nausea, fatigue, and other side effects of months of aggressive chemotherapy and radiation, Leslie managed to rescue 45 dogs.
Now, she's cancer-free and back up to feeding and rescuing stray dogs each day with her one-woman organization, Meals on Wheels for Helena-West Helena Dogs, a rescue in Helena, Ark.
Her second-place win in the Rescue Your Rescue contest netted $5,000, most of which went toward veterinary and boarding bills.
"Dogs off the streets usually have multiple issues coming in, such as heartworms, scabies, and worms, plus they need spayed or neutered," Leslie says. "All that usually runs about $200 per dog."
Leslie founded Meals on Wheels for Helena-West Helena Dogs because her town has had no animal control since 2008, when the city government discontinued that service.
Two years later, after unchecked breeding, stray dogs were everywhere, she says, and the local Humane Society of the Delta was beyond full, with dogs doubled up in each kennel.
That's when Leslie began feeding strays on the street. "It was Meals on Wheels in the beginning, because I kept food in the trunk of my car," she says.
She would locate a group of strays and go to the same area each day to feed them. As she became familiar to them, some would let her touch them, which is how she was able to take them to a veterinarian, then to a foster home, and ultimately to a forever home.
"I've moved 230 dogs on my own since 2010," she says. "I've had to euthanize only four dogs because they were hit by a car and too far gone."
Adopters who take in one of Leslie's dogs find that they're well socialized and healthy.
"That's one of the things I pride myself on: 'One healthy and happy dog at a time,'" she says.
Watching a once-homeless, ill, and neglected animal reach its potential is the most satisfying part of all her hard rescue work, Leslie says.
"Every dog has a story and the best part of rescue work to me is when a dog looks in your eye and they finally get it. They finally get that they're safe," she says.
"Because when you pull a dog from the street, they're full of fear and when they get that they're safe, they go completely ecstatic with joy. When you get to see that final snap, that change of the personality, it's priceless," she says. "There is nothing that beats the feeling of seeing a dog change."
Asheville Humane Society: Helping animals and their people thrive
Photography by Blake Madden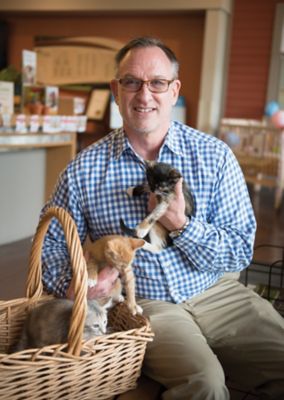 Many pet rescues can only wish that they could be where the Asheville Humane Society is right now.
Intake of animals into the world-class shelter has dropped by 17 percent; staffing is sufficient with highly qualified, trained, compassionate people; special-needs animals are given every chance; and its outreach program provides spay/neuter, low-cost vaccines, vouchers to pet food pantries, and free behavior assistance to keep pets in their homes where they are loved.
So how has this animal rescue become so successful?
"The simple answer is we're fortunate to raise money; the complex answer is that it's been a longtime struggle to get there," says Tracy Elliott, executive director. "Every shelter is at some point in the process. We are at a very good point right now."
The $3,500 the humane society won from Rescue Your Rescue went toward its Safety Net Program, which provides support for those who need help caring for their pet.
"That is for when someone reaches out to us and says they need help with some kind of animal care issue that they may have difficulty affording, like health, food, supplies, a dog house, or even a fence in some cases so we can get a dog off of a tether," Elliott says.
Some 3,000 animals and their families have been helped out of difficult circumstances by the Safety Net Program, he says, and as a result, "the number of animals being taken to the shelter is falling precipitously."
The shelter is well-funded because Asheville's residents, and consequently, its city and county governments are animal-focused, Elliott says.
"It took the whole community," he says.
So what can shelters do to achieve the Asheville Humane Society's success?
"There is the idea that animals are property, which is legally true, but we have to change that orientation and attitude," Elliott says. "If you don't believe that animals have rights, at least believe that we, as humans, have the responsibility to make sure that animals don't suffer."
The Asheville region took that a step further.
"The great thing about this community effort is that it recognized it's not about the animals. It's about people, and pets and their people deserve a safe community to thrive together," Elliott says. "That's a mistake commonly made by animal welfare groups; they focus on animals and not on the animal-human connection that enhances human life, too."
Remaining Rescue Your Rescue Finalists
The Barnyard Sanctuary, Columbia, N.J.: facebook.com/TheBarnyardSanctuary
Lasa Sanctuary, Ashtabula, Ohio: facebook.com/Lasa.Sanctuary.Oh
Painted Paws for Veterans, Peyton, Colo.: facebook.com/PaintedPawsForVeterans
Hoopeston, IL Animal Control's Rescue Efforts & Animal Awareness, Hoopeston, Ill.: tinyurl.com/Hoopston
Pet Haven, Inc., of MN, Minneapolis, Minn.: facebook.com/PetHavenMN
Whispering Woods Farm Maryland, White Marsh, Md.: facebook.com/whisperingwoodsfarmmaryland
Healing Species, Orangeburg, S.C.: facebook.com/HealingSpecies