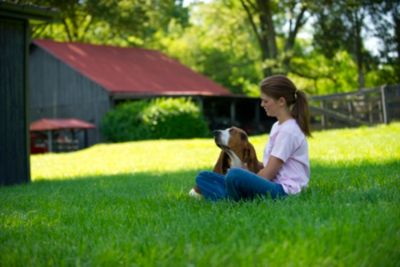 3 Ways to Protect Your Pet From Insects
Summer means long, sunny days, swimming at the lake and taking a long-awaited vacation. But for pets, it can also mean insects. According to the U.S. Centers for Disease Control (CDC), ticks throughout the United States carry at least 12 known diseases that aren't limited to dogs and cats. Ticks can also bite humans, making tick bites possible for the entire family. When it comes to dealing with insects, prevention is the key and often requires a multi-step approach.
1. Treat the Yard
Insects and ticks live at ground level, usually near moist and shady areas. They will also cling to tall grass and shrubs but tend to climb no higher than 18 to 24 inches off the ground. Since insect prevention is the best way to keep your pet tick free during the spring and summer, using a insect spray on your yard and its perimeter can eliminate these pests for up to six weeks. Liquid sprays are the easiest to apply and simply attach to your garden hose. Use a broad-spectrum spray that also kills mosquitoes, ants, aphids and mites for total yard and perimeter protection. Keeping your yard, trees and hedges closely trimmed, and your garden weed-free can help reduce areas where ticks love to live and breed. After applying liquid pesticide, be sure the product is completely dry before allowing pets and small children back into the yard.
2. Topical Applications
The next step to insect prevention is to use topical treatments like shampoos, top spot liquids and dips to keep insects away. Shampoos will help kill any existing insects and prevent reinfestation. Since your pet needs regular bathing during the summer months, using a flea and tick shampoo instead of a regular shampoo will help keep your furry friend insect free. After bathing and according to directions, apply a top-spot insect preventative. Starting at the tail, part the hair and apply the product directly to your pet's skin moving along the spine towards the head and against the grain of the hair growth. This product must be applied to the skin or it will not work. For cats, apply the product in a forward motion towards the head and against the hair growth, but be sure to only apply where your cat can't lick the medicine away. Another option for long-term insect control is a tick and flea dip. Dips last up to 30 days, but all existing ticks must be dead and removed in order for the product to work. Make sure to follow the directions for proper water-to-product ratio to keep your pet safe.
3. Chewable Insect Prevention
Chewable insect prevention is the longest lasting, easiest and most comprehensive form of insect prevention for your cat or dog. Treatments last from one month to three months depending on the product and are offered in a tasty and chewable treat. Chews are based on your pet's weight so your dog or cat is getting the right amount of medicine for complete control. Chewables are also the easiest to use of all insect treatments since your pet only has to eat the treat as often as prescribed.
In most cases, no matter how diligent you are at prevention, most dogs and outdoor cats will get the occasional tick. The best way to remove these unwanted passengers is with sharp-ended tweezer. Grasp the tick as close to the skin as possible, pinch and pull until it comes out. Do not grasp at the back end, as it will push all the blood (and infectious microbes) into the skin. Once the tick is removed, save it for identification purposes and rub the area with alcohol.
And remember, when it comes to insect control for your pet, it's important to talk to your veterinarian about the safest and best options for your furry family member.