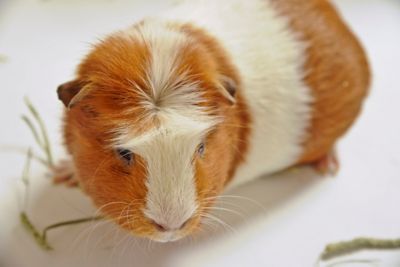 Rabbit & Guinea Pigs

From Angoras to Zemmouris, there are more than 60 uniquely beautiful breeds of rabbits found throughout the world. With more than 10 recognized breeds of guinea pigs as well, there's no shortage of variety and personality when it comes to small pets. Ask any rabbit or guinea pig enthusiast and they'll proudly share their own personal experience illustrating what exceptional pets these intelligent and affectionate herbivores make. It's true that having a rabbit or guinea pig as a member of the family is among the most rewarding of pet parenting experiences, and a detailed understanding of the life cycle and unique needs of these pets is an important step in providing the best quality of life possible.

Rabbit and Guinea Pig Life Cycle

With proper care and nutrition, pet rabbits will most typically live between 8-12 years. With guinea pigs, the average range will be between 5-8 years. The longevity of both rabbits and guinea pigs has improved significantly in recent decades, thanks to advancements in nutrition, veterinary medicine and care, and pet owner understanding of the physiology and needs of these pets. There are various factors that affect longevity, including genetics, environment, and diet. Of these factors, diet is often the #1 indicator of a rabbit or guinea pig's quality and length of life.

Young Rabbit & Guinea Pig Nutrition

Young rabbits (<1 year) and young guinea pigs (<6 months) have higher energy needs than adults and should be fed an alfalfa-based diet. Alfalfa is a legume hay with higher levels of calcium, protein, and energy, and is the ideal material to provide the more concentrated nutrition young rabbits and guinea pigs need to properly develop. In addition to an alfalfa-based food, young rabbits and guinea pigs should have unlimited access to both alfalfa and grass hays. Providing grass hay alongside alfalfa is a great way to prepare young pets for a successful nutritional transition into adulthood when a grass hay-based diet should make up the majority of their diet. Pets that learn to enjoy the tastes and textures of grass hay when they are young will be more likely to be enthusiastic fans of hay their entire lives.

Fun fact: Rabbits and guinea pigs are classified as "concentrate selectors," meaning that they are engineered to eat the most nutritionally-dense foods available first. This selective eating behavior can be attributed to their survival instincts in the wild. When faced with the threats of predators in their native habitat, rabbits, guinea pigs, and other prey species will instinctually consume the maximum number of nutrients, as quickly as possible. In captivity, these instincts can lead to picky or selective eating habits. Opting for a uniform food will help prevent these unhealthy habits while offering complete nutrition in every bite.

Adult Rabbit & Guinea Pig Nutrition

Rabbits are considered adults after one year; for guinea pigs, this milestone comes at six months. As adults, the nutritional requirements of these pets are lower. To meet these lesser energy needs, adult rabbits and guinea pigs should be fed grass hay in unlimited quantities, along with a daily recommended amount of a Timothy-based fortified food. The unique digestive system of rabbits and guinea pigs requires the constant motion of high fiber foods to remain in ideal working order. Grass hay is the ideal material to meet this vital health need. In addition to the core nutrition of hay and food, rabbits and guinea pigs should access to fresh water at all times. To make sure that water is always available, offer two sources (e.g. both a bottle and a crock).

Veterinary Care

A trusted, knowledgeable veterinarian is your greatest partner in providing a healthy life for your rabbit or guinea pig. Every successful pet care program should include annual wellness examinations. At these visits, your veterinarian will evaluate your pet's diet, behavior, and health. Prepare for these visits by making a list of questions and concerns ahead of time. Other reasons to contact your veterinarian include noticeable changes in behavior, diet, drinking, and stools (size, frequency, consistency), as well as noticeable changes to any part of your pet's physical anatomy.

Housing

Rabbits and guinea pigs may be small, but they require an ample amount of living space to remain happy and healthy. As prey species, it's important for guinea pigs and rabbits to have a safe place to escape environmental stressors such as noise and commotion. A well-constructed habitat with a solid floor makes a great place for pets to relax and sleep, but this type of structure does not allow enough space for a pet's exercise and instinctual exploring needs. A play yard (x-pen) makes a safe, secure exercise area for rabbits and guinea pigs. If possible, invest in pet-proofing an even larger area of your home to maximize your pet's ability to roam free. Some of the happiest pets have free reign of the entire home. If this is not feasible, consider pet-proofing a dedicated room for your rabbit or guinea pig.

Enrichment

Providing a high quality of life for rabbits and guinea pigs includes opportunities for mental and physical stimulation within the habitat. There are many accessories and toys available to aid with this, but enrichment can be as simple as alternating where you place your pet's food and water each day. Challenging pets spatially in this way is a great opportunity to proactively sharpen their mental acuity a little bit each day. Similarly, you can place hay in many unique (and alternated) places through the habitat – even the litterbox. In addition to challenging pets, this encourages them to eat hay regularly. Finally, try hiding your pet's favorite treat inside his hay as a way to make him work for this reward. Rabbits and guinea pigs love to burrow and forage, and this is a great way to offer engagement.