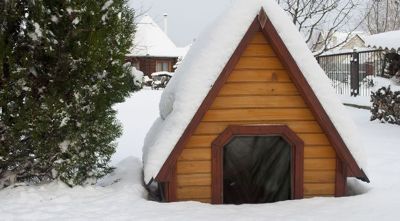 Winterizing Your Dog's Kennel
Keeping your furry family members warm in winter requires a common-sense approach. Some larger dogs, like Newfies, St. Bernards and Huskies enjoy colder temperatures and often have more energy and playfulness during the winter months. However, other breeds like Chihuahuas and pugs may be perfectly spending snowy days on a warm blanket inside the house. But even dogs with heavy winter coats can suffer from harsh conditions if kept outside without proper protection. Understanding your pet's breed, coat, overall health and preference for warm or cold temperatures can help you choose the type of winterizing best suited to your dog's individual needs. Use the following guidelines to create a warm and safe environment for your outdoor dog in winter:
1. Shelter
Providing the right kind of shelter is the first and most important step to winterizing your dog's kennel. Although your dog may spend part of its time indoors during the harshest of winter months, having a warm and dry dog house inside the kennel gives your furry family member a place to go when the weather is at its worst. Plastic dog houses hold up well in the snow and rain, but no dog house should be without ventilation. Look for models with vent holes near the top of the dog house to keep out drafts and excess winds. Wooden dog houses should be off the ground a few inches to guard against a wet floor and wood rot. Wooden houses should also have shingled or plastic roofs to protect from leaks or damage. Many new dog houses come with foam insulation built in for extra warmth. Even if your dog's house is insulated, he'll enjoy plenty of soft bedding or a blanket or two.
2. Dog Run
Dogs that stay outside most of the winter won't be content just to sit around in a dog house tucked inside a kennel. Dogs need year-round exercise and stimulation to keep them healthy, even though their activity levels will naturally diminish as the weather gets colder. Providing your dog with a dry place to run is important for his overall health during the winter. Adding a cover over the kennel keeps the ground clean and dry during cold winter days and provides extra protection for your dog's house. If possible, consider adding an extra section of fencing to increase your dog's winter play area. Just make sure the entire dog run is covered by a leak-proof roof or kennel cover. For additional protection from snow, wind and rain, add ventilated windscreens to the sides of the kennel. These windscreens also provide shade from direct sun which is necessary even in the winter.
3. Bedding
Hay might seem like the natural choice for kennel bedding, but it can actually lead to flea infestations, parasites and certain types of mange. A better choice is pine or cedar shavings. Shavings of this kind are soft, comfortable to lie on, absorb moisture and help control odor. Wood shavings are also environmentally safe, easy to dispose of and naturally repel fleas and other insects. Never use wood shavings of any kind with pregnant dogs or newborn puppies. Certain types of bacteria found in some wood shavings can be dangerous for whelping females and their puppies. Along with wood shavings, consider adding one or two old blankets or towels to your dog's house. Towels and blankets are great for cuddling in the cold and are also easy to remove and wash for better hygiene. Make sure to replace wet or soiled shavings with dry ones as soon as possible.
Winter Dog Care
Along with proper winterization of your dog's kennel and house, good nutrition and access to clean, fresh water are especially important during the winter months. If your dog stays outdoors all the time in the winter, you must check and refresh the water several times each day. Water freezes over quickly in cold temperatures, so make sure your dog gets a good drink as soon as the water is refilled. Check your dog's paws regularly for signs of dryness or cracking of the paw pads. Inspect, rinse or wipe your dog's feet to get rid of harmful salt or other chemical residues especially after a walk, and keep foot hair well trimmed to avoid snow or ice build-up between paw pads. Also check your dog's coat periodically for mats or hair loss. Hair loss can be a sign of stress or poor diet at any time of year. Adding a coat supplement to your dog's food can help. And if your dog seems to have a stronger aroma during the winter, don't worry. The less a dog is bathed the more like a dog he'll smell, and bathing dogs often in the winter can lead to dry skin. A healthy coat is your dog's best defense against the winter cold.
Tractor Supply Co has your pet covered when it comes to staying warm and healthy all year long. Choose from our complete line of dog houses, kennels, dog runs, food and supplements to keep your furry friend fully protected from whatever winter dishes out.