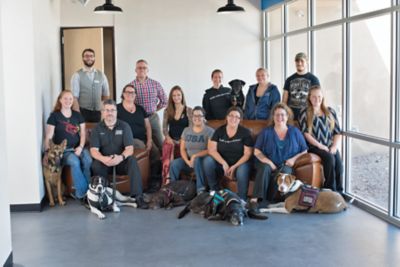 Saving Lives, Two at a Time
By Carol Davis
Photography by Mark Mosrie
Rachael Thompson smiles easily now, even as she recalls dark days filled with post-traumatic stress disorder (PTSD) and the effects of traumatic brain injury, also known as TBI.After her service in the U.S. Navy during the first Gulf War, there were days Rachael stayed in a darkened room with curtains drawn. She suffered excruciating headaches. The oppressive hand of depression created such bleak hopelessness that she didn't want to live anymore.She didn't believe that anything or anyone could help her return to the person she was before her military service - much less, a dog who also faced an equally bleak future.
Enter Paws and Stripes.
'We Were on to Something'
Lindsey Stanek saw the powerful effect that therapy dogs had on her former husband, Jim, as he received treatment for military-related PTSD and TBI. Her efforts to get a service dog for him were prevented by an exorbitant price tag; specialized dogs and training costs can reach up to $60,000 and such costs are not covered by health insurance.So Lindsey created Paws and Stripes, a nonprofit organization to help veterans with PTSD and TBI get a trained service dog at no cost to them. "I thought if we could help a couple of people get service dogs, it would be a success," she recalls. "Then we realized how huge the need was. It was quickly evident that we were on to something."In setting up Paws and Stripes, Lindsey required three rules that comprise its core values:

All dogs in the program must be shelter dogs. As the program's website says, "We believe in saving lives, together, two at a time."
The veterans must train multiple times per week with their dogs for maximum benefit.
There must never be any financial cost to the veteran to graduate.

Though Paws and Stripes has grown since beginning in 2010, those non-negotiable rules remain the organization's foundation, Lindsey says.Its curriculum has evolved, however, by integrating mental health into the model and individualizing everything - including the dog - to meet each veteran's needs, Lindsey says. "We want this to be a healing process," she says.Many of the veterans with PTSD and TBI come to Paws and Stripes after years of shutting themselves off from others, Lindsey explains. "They isolate themselves, and their world becomes smaller and smaller and smaller," Lindsey says. "Now, they have to go outside their home to train their dog, and their dog has to get walked. Their world starts to gradually grow again."
'I Could Tell They Wanted to Help'
Rachael Thompson is candid about what the program has done for her. "I'm alive today because of Paws and Stripes," she says.When a psychologist treating her PTSD and TBI told her about the organization, Rachael called and immediately sensed something different. "It was a feeling I hadn't had before. They understood because they worked with veterans," she recalls. "I could tell they wanted to help and they do care."Rachael was teamed up with a shelter dog named Myrna - pronounced MEER-nah - and the pair undertook the rigorous training.It changed everything. "I am so not the person I was 26 months ago," Rachael says.Her Paws and Stripes mentors - veterans who have been through the program, gotten a dog, and returned as volunteers to help other veterans - accomplished what doctors had not. "They broke through to me and I started to change," she says. "I felt that there was a possibility that I could be happy again."Rachael's service dog helps her to stay physically healthy by stopping her if she's exerting herself. The dog also senses when Rachael feels downcast and will head-butt her to help lift her mood, she says.Siobhan Bujac's service dog, Tir - pronounced Teer - is trained to recognize the symptoms of an oncoming migraine headache and alerts Siobhan to take medicine by gently bumping the back of her knee. He's also quick to nuzzle her if he senses depression to help steer her away from it. "I've been less depressed and more willing to go places," says Siobhan, who served in the U.S. Army from 2006-2007. "Prior to getting him, you could barely get me out of the house. I wouldn't go grocery shopping or run errands. But with him, I have no issue running to the store." "I know that he's got my back," Siobhan says. "It's restored my confidence."Now, she takes trips with friends, gives her time at a local aquarium, and volunteers with Paws and Stripes as a mentor."It helps to make up for all the help I got," she says.
Bringing Calm
Right after Jim Ralls got his service dog, Hope, for his PTSD, he wasn't sure she could help his symptoms of depression and anger. "Then one day when I had a really bad day, she just locked down," he recalls.In response to his agitation, Hope would not respond to him and refused to move.As Jim calmed down, Hope also began acting normally again."Then, it hit me: That's her job," he says. "That's when I knew I needed a service dog."Hope also brings calm to Jim's classroom, where he teaches at an alternative high school."She lays on the floor within 10 feet of me and if there's a student I'm about to get irritated with, she will jump up and lick my hand," Jim says. "It allows me to calm back down."Hope has given him, well, hope."I don't get angry as much and there's less depression. And I was isolated before, but not now," he says. "I can almost lead kind of a semi-normal life."Jim, like Rachael and Siobhan, also volunteers with Paws and Stripes as a mentor to help other veterans reach for a better life."All of us want to help Paws and Stripes," he says, "and repay them for giving us our lives back."