Puppy Vaccinations
Republished with permission from the American Kennel Club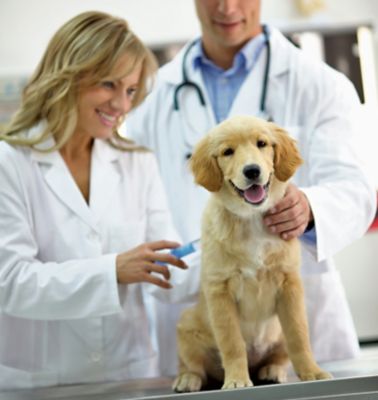 When you bring that soft, sweet-smelling little ball of a puppy into your home, she depends on you for everything.
Besides nutritious food, plenty of attention, gentle training, safe toys, socialization, and a comfortable home, she needs proper veterinary care, and that includes puppy vaccinations throughout her first year.
Going to the vet repeatedly for shots, boosters, or lab tests throughout your dog's life may seem inconvenient, but those vaccinations will prevent your pet from diseases that are dangerous and potentially deadly.
It can be confusing to know which shots puppies need and which ones are important but optional. Here is an overview of the diseases that vaccinations will help your pet to avoid.
Bordetella Bronchiseptica. This highly communicable bacterium causes severe fits of coughing, whooping, vomiting and, in rare cases, seizures and death. It is the primary cause of kennel cough. Injectable and nasal spray vaccines are available.
Canine Distemper. This virus attacks the respiratory, gastrointestinal (GI), and nervous systems, and causes discharges from the eyes and nose, fever, coughing, vomiting, diarrhea, seizures, paralysis, and often, death.
Canine Hepatitis. A disease of the liver, symptoms range from a slight fever to vomiting, stomach enlargement, and pain around the liver. Dogs can overcome the mild form of the disease, but the severe form can kill.
Corona Virus. This is a nasty virus that usually affects a dog's gastrointestinal system, though it can also cause respiratory infections. Signs include loss of appetite, vomiting, and diarrhea.
Heartworm. The name is descriptive — these worms, which are transmitted by mosquitoes, lodge in the right side of the heart and the pulmonary arteries (that send blood to the lungs), though they can travel through the rest of the body and sometimes invade the liver and kidneys. A new infection often causes no symptoms, though dogs in later stages of the disease may cough, become lethargic, lose their appetite, or have difficulty breathing. Though there is no vaccine, it is preventable with regular medication.
Kennel Cough. Kennel cough results from inflammation of the upper airways. Usually the disease is mild, sometimes it's severe, and in rare cases, it can be deadly. It is easily spread between dogs in close quarters, which is why it passes quickly through kennels.
Lyme Disease. Transmitted via ticks, an infected dog often starts limping, lymph nodes swell, temperature rises, and he stops eating. The disease can affect his heart, kidney, and joints, among other things, or lead to neurological disorders if left untreated.
Parvovirus. Parvo is a particularly nasty virus that attacks the gastrointestinal system and creates loss of appetite, vomiting, fever, and often severe, bloody diarrhea. Extreme dehydration can come on rapidly and kill a dog within 48 to 72 hours, so prompt veterinary attention is crucial.
Rabies.The rabies virus invades the central nervous system, causing headache, anxiety, hallucinations, excessive drooling, fear of water, paralysis, and death. Treatment within hours of infection is essential, otherwise death is highly likely. Most states require rabies vaccination.
Of course, your veterinarian should weigh in on your dog's preventive medicine and can always provide more information and guidance if needed on necessary and optional shots.