Prime Your Dog For Peak Performance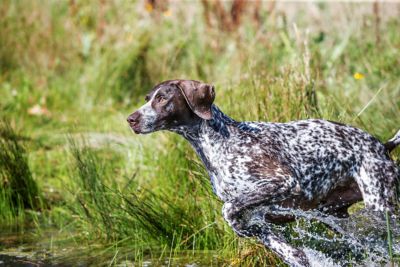 By nutritionally priming a dog for performance, you can help boost his athleticism. Nutritional priming can involve both the daily food to support an active metabolism. "Feeding a high-protein/high-fat performance food on a daily basis is optimal for hardworking dogs because it metabolically primes them to use these fuels for exercise," says Purina® Research Nutritionist Brian Zanghi, PhD.
HARDWORKING NUTRITION FOR HARDWORKING DOGS
The harder sporting dogs work, the greater their fat and protein metabolism. Fat is the preferred source of energy during exercise. A high-fat diet increases the number of mitochondria in muscle cells, which promotes burning fat for energy. Protein helps to support strong muscles and maintain the body/protein balance needed when exercise activates protein breakdown.
Ideally, hardworking dogs should be fed a performance food that provides from 28 to 30% protein and from 18 to 20% fat to sustain their energy demand, Zanghi says. For example, Purina® Pro Plan® SPORT® Performance 30/20 Formula [link to 30/20 formula page], which contains a minimum of 30% protein and 20% fat, is a perfect choice.
Zanghi advises feeding a performance food year round. "Switching to a maintenance diet in the off-season is like metabolically detraining your dogs," he says. "Maintenance foods deliver higher levels of carbohydrates, which decrease the metabolic capacity to use fats, and ultimately result in reduced endurance. It's best to reduce the portion fed in the off-season and monitor body condition to keep a dog healthy and fit."