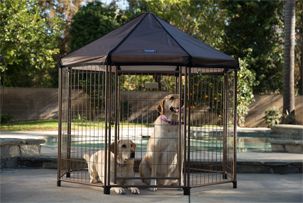 Keep a Dog Kennel Cool in the Summer
Dogs love the great outdoors! Keeping watch over their yard and home and enjoying the sights and smells of summer is what most dogs do best. But even short periods of time spent in an outside kennel can be uncomfortable for your furry family member if the temperatures get too hot. Too much heat can cause uncomfortable skin conditions and digestive issues, and a lack of air flow can quickly become life-threatening for your pet. With some minor modifications to your pet's kennel and other simple tricks, you can help keep your dog cool all summer long.
Location
When it comes to choosing the right location for your pet's kennel, shady spots are best for keeping things cool. Older dogs often enjoy some time in the sun, but make sure there are spots of shade throughout the day so she can move when things get too hot. Positioning the kennel under some mature trees or providing a canopyoffers your pet the right amount of shade all day long. For additional cooling, move your pet's kennel so that it is parallel to the wind direction. This increases the movement of air around and through the kennel to aid in ventilation. If your kennel is stationary, add a cooling fan in one of the top corners directed down to keep air moving around your pet.
Elevation
If you use a dog house inside your dog's kennel for shade and protection from weather, elevate it during the summer months. This is especially true if your kennel is moveable and has only a grass or dirt floor. Raising the dog house keeps air circulating and prevents heat from the ground from rising through the house floor. It also keeps the house dry which helps prevent the growth of harmful bacteria on inside surfaces. Raise the house up on bricks or cinder blocks, or purchase a house that is already elevated.
Insulation
It may seem counterintuitive but insulating your dog's kennel house can help keep the inside cool during the summer. Adding some Styrofoam panels between the frame and the plywood helps keep cool air in and hot air out. You can also use your kennel's winter screening to add additional shade throughout the day. Screening can be easily raised and lowered depending on the sun's position. Just make sure at least three sides of the kennel are always open to ensure proper ventilation.
Cooling Tips
Some days are just hotter than others, and no matter how much air is circulating in and around the kennel or dog house, your pet will suffer. On extra hot days if bringing your pet indoors isn't an option, spray the floor of the kennel with water from a garden hose several times a day. If you're using a dog house inside the kennel, make sure to spray it down as well to keep the entire resting area cool. And keep the fan going! Using a fan over damp surfaces creates an air-conditioning effect that will help keep your pet comfortable. During hot days your pet will also appreciate a bowl of ice to munch on to help cool her down even further.
Tractor Supply has everything you need to keep your pet healthy, happy and cool this summer. Check out our assortment of dog kennels, houses, kennel covers and healthy treat and food options.