Is Your Dog's Food Feeding Your Dog's Brain?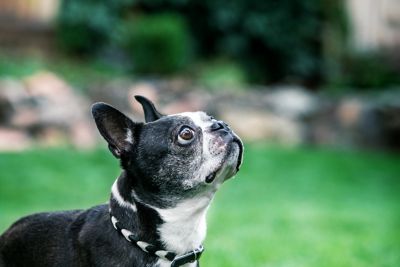 Did you know that dogs are considered senior at age 7? Healthy senior dogs love to run and play, albeit not as rambunctiously as when they were younger. Their sparkling eyes and wagging tails show that they feel well. They always know who you are and precisely when it's dinnertime.
Some dogs don't get the chance to gracefully gait into their senior years. From less interaction with you to lower engagement in daily activities, there are many signs your dog may be aging.
MAKING THEIR "GOLDEN YEARS" MEMORABLE
Around age 7, a dog's glucose metabolism in the brain begins to change, which can affect memory, learning, awareness or decision-making. Purina® discovered that enhanced botanical oils can be used as an additional energy source for the brain in dogs age 7+. Dogs, age seven and older, can benefit from a food like Purina® Pro Plan®BRIGHT MIND™ Adult 7+ that has been specifically formulated to meet their nutritional needs. BRIGHT MIND features enhanced botanical oils, which have been shown to promote alertness and mental sharpness in dogs 7+ with visible results within 30 days, along with high-quality protein, including chicken as the first ingredient, and EPA, an omega-3 fatty acid, to help support joint health and mobility.
So if your dog is 7 and older, take the time to look around and find the Pro Plan BRIGHT MIND Adult 7+ formula that's right for your dog.