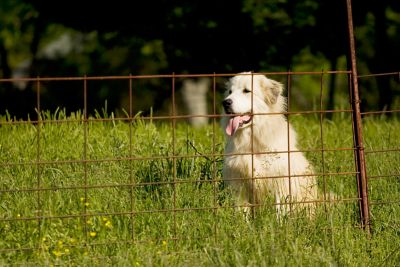 Guardian Dogs for Goats
Livestock like goats can be a great addition to your small farm. But like other herd and flock animals, goats have little going for them when it comes to staying safe. Choosing the right guardian dog for your goat herd is the best way to protect them from coyotes, wolves and other predators. These three guardian dog breeds will get the job done:
Anatolian Shepherd
The Anatolian Shepherd is a strong, sturdy dog and is considered one of the top breeds for goat guarding. The Anatolian Shepherd is large and powerful with great agility. This dog is known for its intelligence and is extremely protective of its herd or flock. Bred specifically for guarding livestock against dangerous predators, the Anatolian Shepherd is happiest when working and is not recommended as a companion dog. Friendly and good-natured to family members, the Anatolian Shepherd is highly protective and does not accept strangers, which makes it a perfect choice for protecting livestock.
Great Pyrenees
The Great Pyrenees may look like a gentle giant, but when working, this dog is all about guarding its herd. The Great Pyrenees is known for its tenderness with young animals, making it the perfect balance of guardian and protector. This is a very large dog, and its pure white coat blends in so well that it's often indistinguishable from the herd until provoked. The size of a Great Pyrenees makes it a suitable match for predators like foxes, feral dogs and coyotes, but not for wolves or bear. Great Pyrenees are generally healthy dogs, are good with kids and make nice family pets when not used for livestock.
Kuvasz
The Kuvasz, like most guardian dogs, is light in color with a dense coat, but it is not as heavy as other guardian breeds. One of the biggest differences between the Kuvasz and other guardians is its personality; it likes to play. But even with its playfulness, early socialization is important for a Kuvasz that is kept as both a guardian and a companion. The Kuvasz is good with children and other animals and is protective of its family. This dog is serious about its work and is not usually interested in performing tricks or fetching, and it does not respond well to commands off-leash.
Tractor Supply Co has a full line of supplies for your new guardian dog. Our dog houses, kennels, containment systems, food, supplements, grooming products and more keep your guardian dog happy and healthy while on the job.