Dog rescue offers new lives to dogs — and their trainers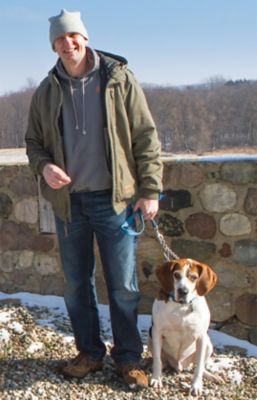 Martin Daughenbaugh is thankful for the program that gave both him and Quinn a new start.
By Erin McIntyre
Photography by Robert Hendricks
Quinn the coonhound was blind, loud, naughty, and rejected by society, but prison saved him.
Martin Daughenbaugh considered himself a "throw-away," serving a sentence for drug possession, armed robbery, and weapons violations, but Quinn saved him.
Together, they were saved by a program designed to give dogs and people a second chance through Refurbished Pets of Southern Michigan, which partners with a state prison to train unadoptable dogs and help them find forever families.
Since 2007, Refurbished Pets has rescued animals that were previously destined to be put down.
The Lakeland (Mich.) Correctional Facility's warden contacted Refurbished Pets about the correctional companion program and having inmates train the dogs.
"At the time, our local animal control facility had a euthanasia rate close to 100 percent," says Misty Kosmerick, Refurbished Pets president.
Since then, prisoners have trained dogs with bad habits or behaviors that previously made them undesirable, so they can be adopted.
Refurbished Pets provides all the food, treats, and medications for the dogs, costing taxpayers nothing.
The dogs live with their trainers. Two trainers work with each dog and write weekly progress reports.
Every 10 weeks, Refurbished Pets goes to the prison for a graduation where the trainers showcase what the dogs have learned.
At that point, the dogs are ready for adoption. While it's hard for the trainers to let go of a dog they've bonded with, they get a new dog.
The first two weeks of training are dedicated to bonding with the dogs, walking, socializing, and playing. Then the work on general obedience starts. If the dog is ready for more, they can learn tricks.
Prisoners must meet certain criteria for being trainers. They have to be working toward a GED or have one already and have good behavior for at least the past 18 months.
"Some of our handlers are in there for life. They're never going to get out, but it's still good for them," Kosmerick says.
When Daughenbaugh earned the privilege of being a trainer, the dogs brought a sense of responsibility and hope to him.
When he first got Quinn, who was one of many dogs he trained, "he was rotten," Daughenbaugh says. Quinn was born with detached retinas, causing blindness, and was anxious, howling and baying often, especially when he was in a crate. But within a few weeks, he was comfortable with Daughenbaugh and learning voice commands.
Quinn was trained and adopted. But a few weeks after he left, Daughenbaugh learned Quinn wasn't doing so well and was reverting to some of his bad habits. He needed more attention than the adoptive couple could provide, so the warden asked Daugenbaugh if he would take Quinn back to live at the prison as a sort of mascot for as long as necessary.
Two-and-a-half years later, Daughenbaugh was paroled and in 2013, he and Quinn walked out together.
Daughenbaugh is thankful for the program that gave both him and Quinn a new start.
"All my life I had taken from people and all I really wanted to do during that entire time was just give something back," Daughenbaugh says. "It was very rewarding to do something with another throw-away and turn him into something positive and valuable."